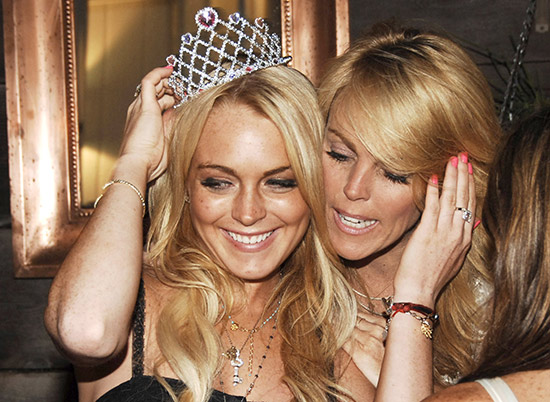 Taking up the dysfunctionality of their family up a notch, Lindsay Lohan and her ker-RAZY momma Dina Lohan got into a really strange fight early Wednesday morning (Oct 10) after a long night of mother-daughter bonding over liquor shots and loud music.
According to TMZ, after Lindsay and a reportedly "wasted" Dina left a New York City nightclub (at around 4 a.m.), they got into a huge argument on the way home because:
…Lindsay wanted to take her limo to her NYC hotel, but Dina wanted to take it to her home in Long Island, to avoid paying for a taxi.
First world problems. We've all got them.
Anyhow, of course Dina got her way — like always, because she's Dina, and Dina Lohan always gets her way — and Lindsay was far from happy about it.
In fact, Lindsay was so unhappy about Momma D (not to be confused with Lil Scrappy's momma) getting her way, that she called the one person in the world who can empathize with her — her father, Michael Lohan.
"Dad, she's on cocaine … She's like touching her neck, and shit," Lindsay was heard saying in the recorded conversation, which was 'mysteriously' obtained by TMZ (i.e. Michael sold it to them).
"She's like the fucking devil right now!" Lindsay shouted at one point.
In the middle of the awkward exchange between the loving family, Lindsay tells her dad that she and "Mom" (as Michael awkwardly refers to Dina) were fighting over money — more specifically, $40,000 Lindsay gave to Dina because she said she needed it to save her house from foreclosure.
Lindsay told Papa Lo that she told Dina she wanted her $40 grand back, and that's when she says Dina went off on her.
Lindsay told her dad, referring to Dina, "She's saying disgusting things to me … She just said I'm dead to her, I'm dead to her now," and Dina's crazy ass can be heard in the background saying, "That's right, you're dead to me."
Listen to the bizarre phone call below:
For some reason, Michael was under the impression that Lindsay was being kidnapped by either her driver or her mother, and he called 911 to report that his daughter was being held hostage inside a chauffeured SUV … which explains why police were waiting outside Dina's home responding to a domestic violence call.
What allegedly happened next is left best described by whoever wrote this hilarious New York Daily News article:
A red-eyed Lindsay jumped from the black Chevrolet Suburban once it stopped in the driveway of Dina Lohan's home in North Merrick around 8 a.m.

"I can't take this any more!" she howled, a witness told the Daily News.

The oft-rehabbed 26-year-old then tossed her purse into the air before heading inside the $1.29 million home — just another bizarre day in the life of the ex-Disney star-turned-public spectacle.

A bank worker later appeared at La Lohan's family home to serve foreclosure papers on Dina — whose feud with the "Mean Girls" star was tied to a house-saving $40,000 loan from Lindsay.

The mother-daughter mayhem, which included Lindsay suffering a cut leg when her diamond bracelet broke, ended with a schizophrenic show of warmth.

"Love you!" Dina Lohan called out as Lindsay — in sunglasses, black pants, a blue button-down shirt and a black trench coat — ignored reporters and quietly climbed back into the SUV.
The police didn't make any arrests, and are blowing the whole thing over as nothing more than a silly family squabble.
"It was an argument between Lindsay Lohan and her mother," said Officer Eloise Abdullah, a Nassau police spokeswoman. "The police responded, and no further police action was taken … It was closed out. There were no injuries and no complaints followed. There is nothing else we can do."
Michael confirmed the scuffle between his ex wife and daughter to the New York Post, telling the paper, "It was a hell of a lot more than that."
Gotta love those Loco Lohans.
Be the first to receive breaking news alerts and more stories like this by subscribing to our mailing list.