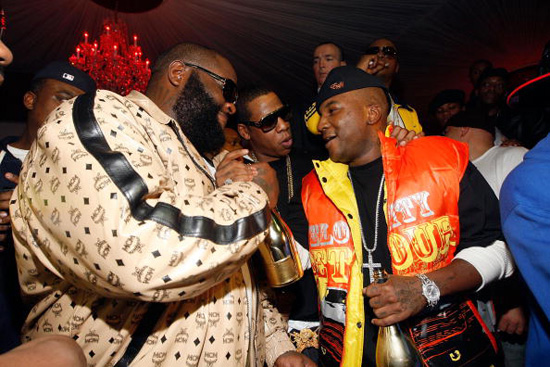 Rappers Rick Ross and Young Jeezy — two of Hip-Hop's biggest superstars, who have been beefing behind the scenes for years — were reportedly involved in a physical altercation backstage this weekend at the 2012 BET Hip-Hop Awards in Atlanta.
Details vary, depending on who you ask, but here's the jist of it.
According to several eyewitness, after crossing paths backstage … Ross and Jeezy started pushing and shoving each other, forcing BET security and their respective bodyguards to have to separate the both of them.
The scuffle was captured on video, which can be viewed below:
In the video, security can be seen stepping in between the various combatants almost immediately, separating everyone before the fight got out of hand. A shirtless Rick Ross can be seen yelling before being escorted away from the scene.

Whoever Ross was yelling at tried to follow after him, but security stepped in before he could get there. There was one casualty however — a random mirror. [TMZ]
According to TMZ sources, after the fight had been broken up, while outside in the parking lot, a member of Rick Ross' entourage pulled out a handgun and fired shots into the air.
A spokesman for the Atlanta Police Department said, "Shortly after 7:15 pm Saturday, a fight broke out in the parking lot at the Atlanta Civic Center (where the BET Awards were being taped) between two groups. Atlanta Police Department officers on scene responded to break up the fight and used OC spray in the process. Individuals fled the scene. There were no arrests or reports of serious injuries. Reports of shots fired appear to be untrue" … however TMZ's sources maintain that shots were DEFINITELY fired.
DJ Drama, who was on his way out of the building to host his radio show when the altercation took place, told his listeners of the backstage brawl:
Some words got exchanged. There were some 'What's ups'. Security got hostile. [There was] some interesting conflict between Ross and Jeezy and it just went bad backstage.

I'm assuming that there is no way BET thought that these guys were gonna run into each other. Definitely not.  All parties walked away unscathed that's for sure. One party went one way, one party went the other.

All this stuff about shots getting fired. I can't confirm any of that. I left.
It was later revealed that another fight broke out in the parking lot between 50 Cent's crew and Gunplay — a Maybach Music Group (Rick Ross' label) rapper with a very fitting name.
WorldStarHipHop posted grainy cell phone video footage of what appears to be Gunplay after being jumped by at least 5 members of G-Unit (50 Cent's entourage).
According to the video's description, the person recording the video started filming "after 4 members left and GunPlay was going toe to toe with the 5th member. The cops pepper sprayed him then he ran off toward 2 Chainz trailor.. soon after Gun Play was arrested."
Multiple sources who witnessed the outdoor brawl confirmed to MTV News that Gunplay got into a physical altercation with members of 50 Cent's camp; and Gunplay was "seen with visible wounds," and put into handcuffs and detained, but a different source close to Gunplay later told MTV that he wasn't arrested.
As MTV pointed out, most of the crowd inside the Atlanta Civic Center where the actual show was going on, were unaware of the drama backstage and outside — unless, of course, they were following it on Twitter or something via their cell phones.
The fights reportedly happened around the same time A Tribe Called Quest, Missy Elliott, Busta Rhymes and other rappers were paying tribute to fallen music mogul Chris Lighty, who committed suicide in August. Known rap rivals 50 Cent and Fat Joe even put aside their differences (even if only for the moment) to honor their late friend.
Meanwhile, in response to the various fights that went on between opposing rap groups, a rep for BET released the following statement:
"Tonight during a taping of the BET Hip Hop Awards 2012 (not the BET Awards which went down without incident two months ago) an altercation between two rap entourages broke out backstage. Atlanta police and BET security quickly defused the altercation.

"BET Networks works very hard to bring the best in entertainment to the city of Atlanta. For the past 7 years BET has celebrated the true art form of Hip Hop. Due to some misjudgment of select attendees, it is unfortunate that certain incidents took place. BET Networks does not condone any type of violence. Local authorities are working to resolve the situation as quickly as possible.

"Despite the actions of a few the 2012 BET Hip Hop Awards embodied the true spirit of hip hop and was not impacted at all by any incidents. Tune in on Tuesday, October 9, 8P/7C to watch the 2012 BET Hip Hop Awards."
Young Jeezy and Rick Ross, both signed to Def Jam, have been beefing for years, with each taking shots at one another on various tracks since 2010.
Despite their alleged altercation, both rappers were able to successfully perform their respective sets during the Hip-Hop Awards, BET sources reported.
Unfortunately, the BET Hip-Hop Awards has somewhat of a bad rep when it comes to stuff like this. Five years ago, T.I. was infamously arrested on gun charges just before the show, where he was scheduled to appear and perform.
Be the first to receive breaking news alerts and more stories like this by subscribing to our mailing list.