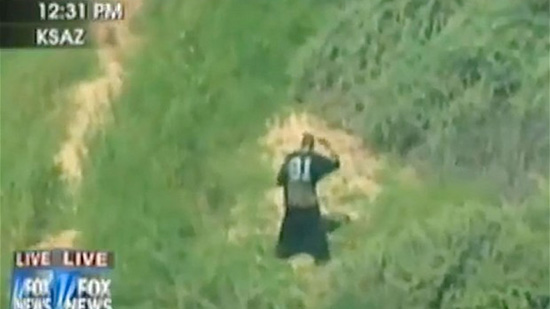 Fox News anchor Shepard Smith was forced to apologize on behalf of the news station after they mistakenly aired live video footage of a man committing suicide following a car chase in Arizona.
The network was following the pursuit via live helicopter feed, and continued to air the footage on TV after the suspect exited the vehicle with a concealed handgun.
As Smith narrated the pursuit, the man began running down a dirt road, fell once, them ran into an area with trees and bushes, with his back to the camera. That's when he pulled out his gun and shot himself in the head, with his body immediately falling face forward to the ground.
Watch below (WARNING — GRAPHIC VIDEO FOOTAGE):
Right when the shooting actually happened, before it was even aired on television, off-camera, Shepard urgently tried to get the control room to cut away from the gruesome scene, saying in an excited tone, "Get off, get off, get off, get off, get off, get off, get off — get off it, get off it, GET OFF IT!"
But whoever was in charge of turning the footage off wasn't quick enough, and the shooting aired anyway. After a short break, Smith apologized to viewers for the broadcast, explaining that the network's five-second tape delay had failed.
Well, some explaining to do. While we were taking that car chase and showing you, when the guy pulled over and got out of the video we went on delay.

That is why I didn't talk for about ten seconds. We created a five-second delay. If you bleep back the DVR five seconds, like that. We wanted to see in the studio what was happening five seconds before you did so if anything went horribly wrong, we would be able to cut away from it without subjecting you to it.

And we really messed up. We're all very sorry. That didn't belong on TV. We took every precaution we knew how to take to keep that from being on TV. I personally apologize to you that happened. Sometimes we see a lost things we don't let get to you because it is not time appropriate, it is insensitive, it is just wrong. That was wrong.
Watch the video of Shepard Smith's apology below:
Fox insiders blame the incident on human error, claiming a producer failed to hit a "dump" button that would have prevented the controversial footage from being aired.
Later, the network's executive VP Michael Clemente — who is used to cleaning up after Fox's messes — issued the following statement:
"We took every precaution to avoid any such live incident by putting the helicopter pictures on a five second delay. Unfortunately, this mistake was the result of a severe human error and we apologize for what viewers ultimately saw on the screen."
Be the first to receive breaking news alerts and more stories like this by subscribing to our mailing list.