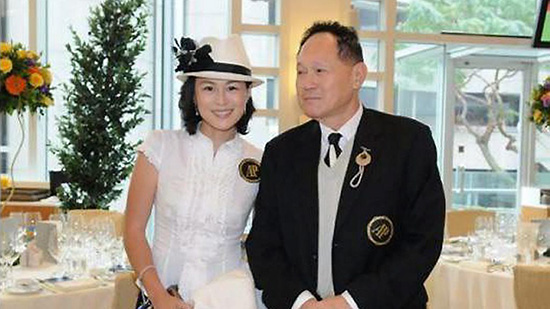 Looking for a quick way to score an extra $65 million bucks? A billionaire business man from Hong Kong is offering over $60 million to the man who can successfully woo his daughter, who is a lesbian, and is already in a long-term relationship with another woman.
"I don't mind whether he is rich or poor. The important thing is that he is generous and kind-hearted," Property magnate Cecil Chao Sze-tsung told the South China Morning Post.
Mr. Chao's unusual "marriage bounty" was announced after he found out his daughter Gigi had married her same-sex partner (who she's been with for seven years) in France about five or six months ago.
Same-sex marriages are not recognized in Hong Kong, and Chao considers his lesbian daughter to be single, as he doesn't acknowledge her same-sex relationship either.
76-year-old Chao is said to be a billionaire Japanese playboy who has never been married, and claims to have slept with over 10,000 women … but miraculously, he only has three children, including 33-year-old Gigi, who is the oldest.
Describing his daughter, an architecture graduate of Manchester University, Chao went on to say, "Gigi is a very good woman with both talents and looks. She is devoted to her parents, is generous and does volunteer work."
Mr. Chao says the man who wins his daughter's heart will also be expected to use the "prize money" as start-up capital for a new business — something her father hopes will "attract someone who has the talent but not the capital to start his own business."
Mr. Chao wanted to point out that he is NOT "selling" his daughter, and he will not force her to marry a man against her will. (As if he could anyway, lol)
Apparently, the purpose of this so-called "marriage bounty" is to see if a man can get her to WILLINGLY marry him.
Good luck with that, sir.
[Business Insider, Daily Mail]
Be the first to receive breaking news alerts and more stories like this by subscribing to our mailing list.