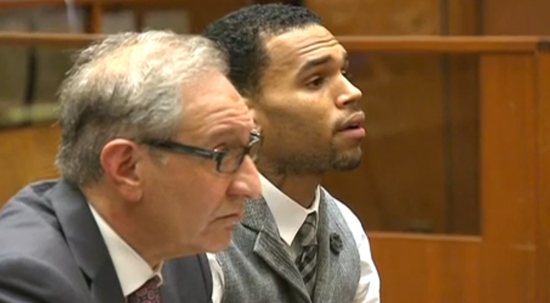 You can't teach an old dog new tricks, but it appears that the young pups aren't picking up on the new regime either.
After staying out of trouble for the better part of his probation, the walls are starting to crumble in Chris Brown's fortress, TMZ reports. The judge in Chris' probation case from his conviction for assaulting his ex(?) Rihanna chastised the rebellious R&B star for failing a recent drug test in Virginia.
Chris was just in court for a probation progress report hearing in his felony battery of Rihanna — and according to probation report docs … Brown failed a drug test on June 18 in Virginia, where he was fulfilling his court ordered community service.

According to probation report, Chris told his probation officer he had smoked weed in California — where he has a medical marijuana prescription — and then failed the test in Virginia, where weed is illegal … prescription or no prescription.

Judge Patricia Schnegg said she never ordered Brown to undergo mandatory drug testing as part of his probation, so she cut him a break … this time … letting him off with a stern reminder to obey all laws.
To be honest, Chris having weed in his system is pretty mild and expected. It's a good thing nothing more … intense was found.
But Rihanna was quick to run to Twitter to hold her Karrueche's man down!
First, she tweeted Chris her love without @ mentioning him:
Praying for you baby, my best wishes are with you today! Remember that whatever God does in our lives, it is WELL DONE!!! #1Love

— Rihanna (@rihanna) September 24, 2012
Then, just to make things clear, she @ mentioned her honey bunch so the whole world could know that it's real:
@chrisbrown I'm praying for you and wishing u the best today!

— Rihanna (@rihanna) September 24, 2012
And Chris, being the kind gentleman that he is, acknowledged Rihanna's public support:
"@rihanna: @chrisbrown I'm praying for you and wishing u the best today!" : thank u so much.

— Chris Brown(@chrisbrown) September 24, 2012
Meanwhile, over on Karrueche's Twitter:
GOD IS GOOD!

— Karrueche Tran (@karrueche) September 24, 2012
Guess Karrueche has officially accepted her role as the third wheel. You gotta get in where you fit in.
Be the first to receive breaking news alerts and more stories like this by subscribing to our mailing list.