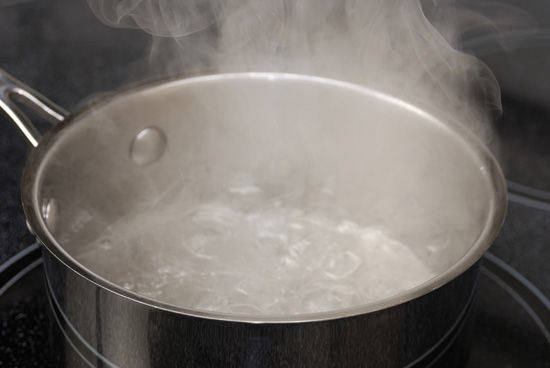 Have your barf bags handy, cause this is one gruesome tale that would probably make even the fictional serial killer character Dexter blush.
David Viens, a California man, confessed to law enforcement that he actually killed and then slow cooked his wife Dawn, who had been reported missing.
The L.A. Times has the details on the killer's confession:
"I just slowly cooked it, and I ended up cooking her for four days," David Viens said on the tape, which was played in court.

"You cooked on [her] body for four days?" replied Los Angeles County Sheriff's Sgt. Richard Garcia.

"Before it was done," Viens said. It was unclear from the interview where the cooking took place.
Viens, who happens to be a chef and restaurant owner, told police that his wife's death was an accident. He got "violent" with his wife and duct taped her mouth and bound her arms and feet. The next morning, she was dead, according to reports.
It's weird that she died from being tied up alone. Presumably her nose wasn't blocked, so what happened? Did she just die from the trauma of her husband turning violent on her?
Unfortunately, her unnecessary death wasn't the end of this tragedy. Once Viens discovered his wife's body, he plotted on how he could get rid of the evidence. WARNING: This is the part of the story where your stomach will do flip-flops.
David Viens said he packed his wife's 105-pound body into a heavy container and used weights to keep it submerged in the bubbling water.

Viens said he mixed what remained with other waste and poured it into the grease pit at his Lomita restaurant, Thyme Contemporary Cafe. Other remains were packed into garbage bags and chucked into a trash bin. All that remained was his wife's skull, he told investigators.

"That's the only thing I didn't want to get rid of in case I wanted to leave it somewhere," he said.

Garcia asked Viens where the skull was.

"In my mother's attic," he said.

Later that day, investigators scoured his mother's attic in Torrance. They found nothing.
How do you go from wedded bliss to this gruesome nightmare? Somehow, life in prison doesn't seem long enough for this cruel, evil man.
Be the first to receive breaking news alerts and more stories like this by subscribing to our mailing list.