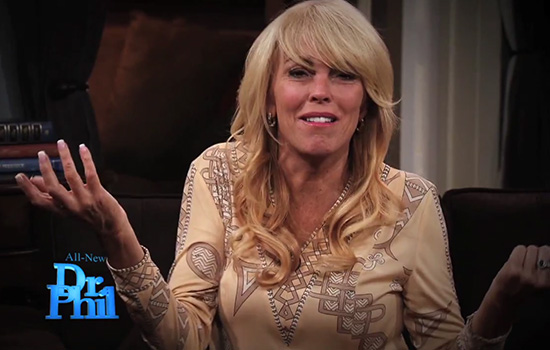 Lindsay Lohan's crazy as hell momma Dina Lohan recently sat down for a one-on-one interview with Dr. Phil, and in a preview clip, Dina — seemingly confused and appearing to be totally wasted — can be seen acting all bizarre and what-not. The usual for a member of a Lohan family, but still. This is an interview, lady.
Peep Dina and Dr. Phil's awkward exchange (via Radar Online) below:
"Look at you, you're in your little tie and little shoes," Dina says to Dr. Phil, while slumping over the sofa and slurring her words.

Dina, 49, was fidgety and giggling throughout the entire interview and Dr. Phil's frustration is evident.

"I'm not flitting around, I'm being scrutinized by you people," Dina says.

"You people?" Dr. Phil snaps back.
Michael Lohan, the equally crazy patriarch of the family, who made an appearance on the show via satellite, even asked Dr. Phil, "Was [Dina] drinking before she did your interview?"
But Dina insists that she was totally sober during the interview, telling TMZ:
"I don't care what it looks like. I'm fine and I don't care what anyone says. All people saw was two minutes edited of an hour long interview. Of course they cut it to make it interesting. That's their job . I don't blame them for doing that. Some of the comments were taken out of context but I'm fine. I'm fine."
Now we see where Linday Lohan gets it from. Look at her parents!
Be the first to receive breaking news alerts and more stories like this by subscribing to our mailing list.