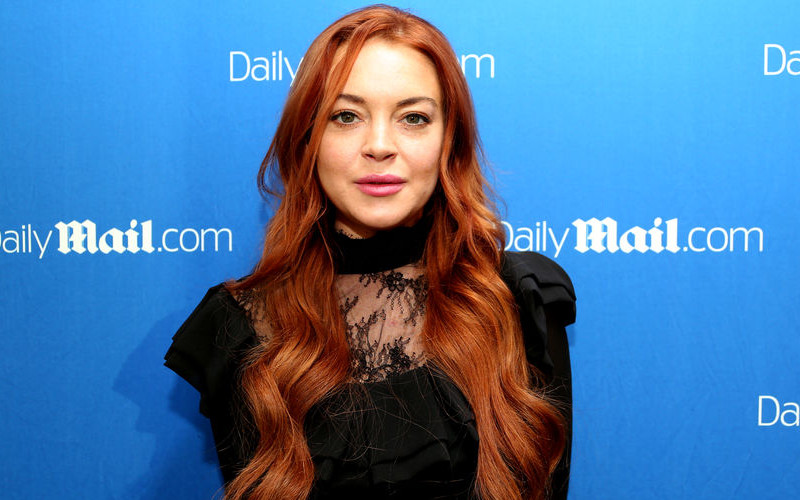 LEAVE DONALD ALONE!!! Though she wasn't quite as dramatic, Lindsay Lohan did give her best Chris Crocker impression while attempting to defend President Donald Trump.
The American actress, who has lived in London since last year, celebrated the Fourth of July by asking fellow Americans to "stop bullying" 45. She then had the nerve to ask us to "trust" the delusional and incompetent fool.
https://twitter.com/lindsaylohan/status/882097820404264961
Lohan was compelled to come to the the commander-in-cheeto's defense after reading and re-tweeting a Breitbart article about Trump offering his support to critically ill British baby Charlie Gard.
Gard's story has received international attention because the European Court of Human Rights has ruled he's too sick to undergo experimental treatment. Even though his parents have raised the money for the treatment, the hospital can still take him off life support.
In a second tweet, she responded to a Trump supporter and described the Trump family as "kind people" and suggested it was "un-American" to criticize anyone, especially President Rancid Velveeta.
https://twitter.com/lindsaylohan/status/882098863749955584
However, "The Resistance" was not here in the least bit for Lohan's sudden love for Trump.
Stop trying to make Trump happen. It's not going to happen.

— Ben Palmer (@palmersaurusrex) July 4, 2017
Seems that some of us didn't learn anything from Mean Girls? Donald Trump is a racist-homophobic-misogynistic bully. Love USA? Impeach him.

— Abraham Gutman ?????? ????? (@abgutman) July 5, 2017
Me @ Lindsay Lohan after she tweeted her support of Trump pic.twitter.com/LCQzzI29E6

— Priscilla (@cillamede96) July 5, 2017
https://twitter.com/DavidSRudin/status/882627757775237121
I was just starting to wonder, "When will Lindsay Lohan weigh in on Trump?", too. https://t.co/OnR9F7POnx

— Wilhelm Scream (@PeterPutzel) July 5, 2017
https://twitter.com/queensize89/status/882628877021065216
When Lindsay Lohan says we need to stop bullying Donald Trump. pic.twitter.com/UaboDDsVJo

— Sam Kalidi (@samkalidi) July 6, 2017
Lindsey Lohan is a trump supporter..

baby where's the burn book

— slightly (@samakinskywalkr) July 5, 2017
People like Lindsay Lohan defending Trump piss me off because they won't be affected negatively by this administration. Not one bit.

— Natalie Grace Alford (@NatalieGABand) July 6, 2017
Does @lindsaylohan Really expect people to start supporting Trump because she says so? Did Trump promise Lohan a job in his cabinet?

— Ed Krassenstein (@EdKrassen) July 6, 2017
Though she timidly endorsed Hillary Clinton in the 2016 election, this isn't the first time Lohan has stumped for Trump. In a February interview with the Daily Mail, she urged Americans not be part of the resistance.
"I think always in the public eye you're going to get scrutinized. [Trump] is the president — we have to join him. If you can't beat him, join him."
However, it wasn't too long ago that sexual comments Trump previously made about Lohan resurfaced and sparked some backlash. During a 2004 interview with Howard Stern, Trump fetishized the freckles on the then-18-year-old's face and chest, which he had seen "close up."
He then said he'd take advantage of her troubled past and have sex with her .
"She's probably deeply troubled and therefore great in bed. How come the deeply troubled women, you know, deeply, deeply troubled, they're always the best in bed?"
But, yet, this is the guy Lohan wants us to stop criticizing and blindly trust?! She needs to go have several seats.
Be the first to receive breaking news alerts and more stories like this by subscribing to our mailing list.