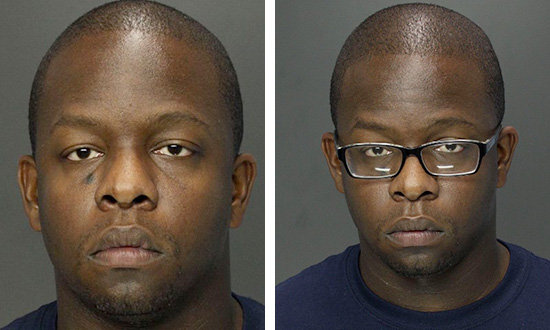 27-year-old Dajuan Porter was arrested in Pennsylvania and charged with multiple counts of deviate sexual assault after he was accused of performing oral sex on three different men — in three separate incidents — while they were asleep.
Incident #1 — According to ABC 27, on May 1, 2011, a Midtown Harrisburg man awoke in the middle of the night to find a strange man performing oral sex on him. The man told police that Dajuan climbed a fire escape, and broke into his apartment.
Incident #2 — In April 2012, another man reported to police that he went to Dajuan Porter's home after a gathering and socialized. And when he woke up later in the evening, he found Porter performing oral sex on him. He immediately stopped Porter, and left, Fox 43 reported.
Incident #3 — In June 2012, a man told police that he went to a party and fell asleep after partying and drinking a little … and when he woke up in the middle of the night, he found Porter performing oral sex on him.
After being identified as the suspect in all three cases, Dajuan Porter was taken into police custody Wednesday morning (Aug 1).
He was charged with three counts of involuntary deviate sexual intercourse, three counts of assault and one burglary count; he remains behind bars in the county jail.
"He actually tried it on me overnight," one of the victims told WHPTV News. This man, who asked to remain anonymous, claims Porter has done this more than three times.

"I violently woke up because I felt a hand go down my pants," stated the victim. That's where it stopped. The man kicked Porter out of his house. Porter had been over with several mutual friends following a night at the bar.

"It made me crazy for days and I really wanted to hunt Dajuan down and beat him to the pavement," the victim told us.

Porter was a fixture at Harrisburg bars, often DJing at downtown clubs. According to this victim, Porter's sex assaults and attempted assaults became known in their midtown Harrisburg circle.
Investigators believe there may be more victims who have yet to come forward. Fox 43 reported that none of the victims recalled drinking to excess, and that aspect of the offense is also being investigated.
Dajuan Porter has been arrested for similar crimes before.
Just last year, he was charged in Maryland for sexually assaulting his cell mate in prison …. (unsurprisingly) while he was sleeping. He has also been arrested for burglary and other sex crimes in Maryland.
Police say when Porter doesn't have some unsuspecting victim's penis in his mouth, he is "very social" and "quite active."
We bet he is.
Be the first to receive breaking news alerts and more stories like this by subscribing to our mailing list.