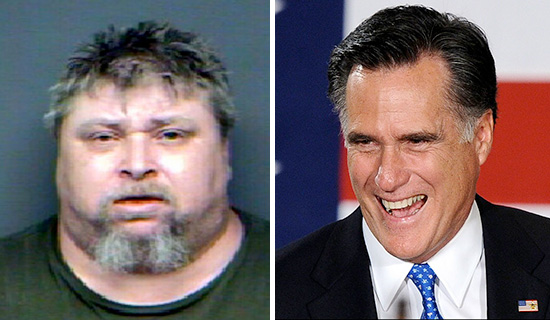 A Tennessee man is accused of attacking his girlfriend after he saw a strange man on her Facebook page. That "strange man" was Mitt Romney.
According to the Anderson County Sheriff's Department, 40-year-old Lowell Turpin flew into a jealous rage last month (Jul 22) when he saw a man's photo on his live-in girlfriend's Facebook page, and "angrily demanded to know who the male was."
38-year-old Crystal Gray told her doofus of a boyfriend that the man was GOP presidential candidate Mitt Romney, and that she wasn't cheating on him.
But apparently he didn't buy it, and accused her of "attempting to communicate with friends through her Facebook account," before he proceeded to throw her laptop against a wall and punch her in the face.
Though he denies attacking his girlfriend, the 310-pound man gave "multiple contradictory accounts of the struggle over the laptop."
Turpin, who reportedly has a history of violence (the woman said he has struck her "multiple times over several years"), was arrested and charged with domestic assault for the alleged attack, and remains in the Anderson County Jail on $1,000 bond.
Be the first to receive breaking news alerts and more stories like this by subscribing to our mailing list.