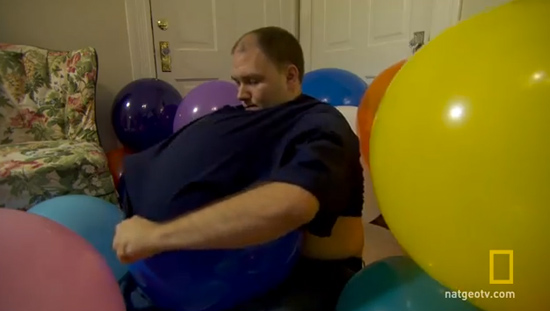 In a race to find the weirdest, strangest people, TLC, Discovery Channel and National Geographic have really scraped the barrel. And just when you think they've reached the bottom, out comes another startlingly bizarre slice of humanity.
We can now add 27-year-old Dave Collins from Little Rock, Ark. to that list of people who make you go, "hmmm?"
As one of the newest subjects of National Geographic's "Taboo" program, Collins admits that he's really, really fond of balloons.
"The best way to protect it is underneath the shirt and you feel the balloon right there with you. It feels so close and you feels so warm and you feel so…and your heart just reaches out to this beautiful, beautiful balloon," he says in a trailer for the episode.
Collins says that his love for balloons is pure and non-sexual, as he claims to be "pure" in his life.
Guess that means he doesn't fornicate or masturbate? If so, he should consider enlisting as a priest in the Catholic Church, cause if more priests had unhealthy obsessions with balloons instead of young boys, we'd be in a much better place.
One thing that you should know about Dave is that popping balloons is pretty much the equivalent of stepping on kittens for him. He explains further in a bit that Daily Mail wrote.
"I feel a balloon has feeling. It's vulnerable to a lot of things. I hate it when it gets sad, I hate it when it gets popped. A balloon needs a good home," he says.
You know what's even more tragic than Collins' balloon fetish?
The fact that at 27, he has the receding hairline of a 47-year-old. (see below)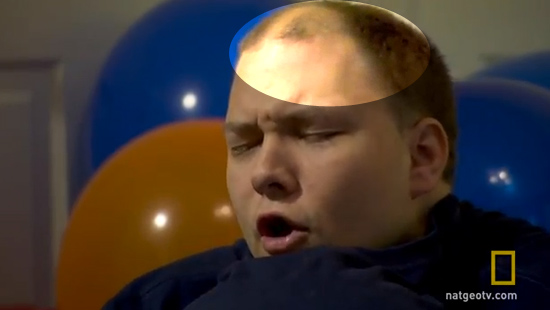 Poor Dave has clearly been dealt many unfortunate cards in his deck of life.
Be the first to receive breaking news alerts and more stories like this by subscribing to our mailing list.