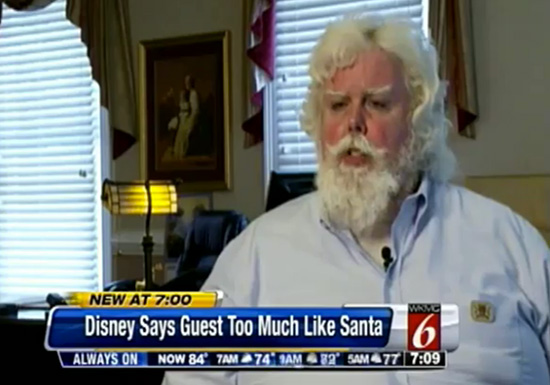 Thomas Tolbert, with his rosy cheeks and his fluffy white beard, can't help that he looks like Santa Clause.
But that didn't stop the friendly people at Disney World from asking him to either stop looking like Jolly Old St. Nick … or leave their park, instead. One or the other. No in between.
Tolbert, from Georgia, was at the park while on a family vacation, and he admits to wearing "Santa-related" attire, but not a full-out Santa Clause suit.
"I had a shirt that had — it would be like a collage — and it had Santa faces and it had sayings from 'The Night Before Christmas,'" Tolbert told Orlando's Local 6.
Disney World officials told Tolbert, who says he occasionally dresses up as Santa for professional gigs, that his appearance was confusing the other guests … especially children, who were asking for photos and autographs, something Tolbert says he's used to.
Tolbert says he was asked, "Do you approach people or do people come up to you?" and he admitted to accepting a few autographs, but he denied that he was purposely impersonating Santa Clause.
"I never approach a person," he said. "All the people that I ever talked to, had photographs with or autographs with approached me. I never approached them."
He said Disney told told him to tell his impromptu fan club, 'I am not who you think I am, I am on vacation and please leave me alone.'
After the incident, Disney released the following statement:
"The guest was asked to change his attire because it was disruptive to our operations and confusing to our other guests, particularly children who asked to take photos with him. He was not asked to leave, instead, we tried to work with him so that he could continue his visit."
Disney compensated Mr. Tolbert for his inconvenience with free passes for a future visit, but the man says he's still annoyed at how "The Happiest Place on Earth" treated him.
"Disney does not own the image of Santa," Tolbert said. "Santa Claus is not owned by anybody, except for the world."
The man does have a point.
Be the first to receive breaking news alerts and more stories like this by subscribing to our mailing list.