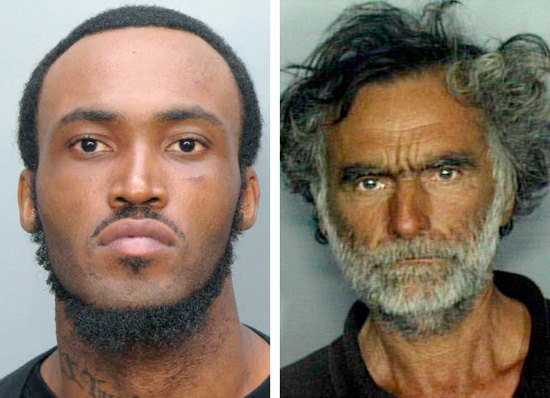 Authorities have released the full toxicology report from the autopsy of Rudy Eugene — the man who made headlines after he chewed another man's face off in Miami on Memorial Day Weekend — and, contrary to popular belief, it looks like bath salts, or any other outrageous drugs for that matter, were NOT behind the gruesome attack.
According to a statement on the full toxicology report by the Miami-Dade medical examiner, the only drug detected in the 31-year-old's lifeless body …. was marijuana. MARI … FREAKIN … JUANA!
[Editor's note: We know weed gives people the munchies … but DAYUM!]
Medical examiner Dr. Bruce Hyma said in his statement, "The laboratory has tested for but not detected any other street drugs, alcohol or prescription drugs…This includes cocaine, LSD, amphetamines (Ecstasy, Meth and others), phencyclidine (PCP or Angel Dust), heroin, oxycodone, Xanax, synthetic marijuana (Spice), and many other similar compounds.
A second forensic toxicology test conducted by a separate lab also confirmed the absence of the most comment ingredients found in bath salts, which mimic the effects of cocaine or methamphetamine and have been associated with various bizarre "zombie attack"-like crimes in recent months, and many — including Miami police officials — believed they were what caused Rudy Eugene to attack Ronald Poppo, and chew off at least 70% of his face.
"Within the limits of current technology by both laboratories," the statement continued, "marijuana is the only drug identified in the body of Mr. Rudy Eugene."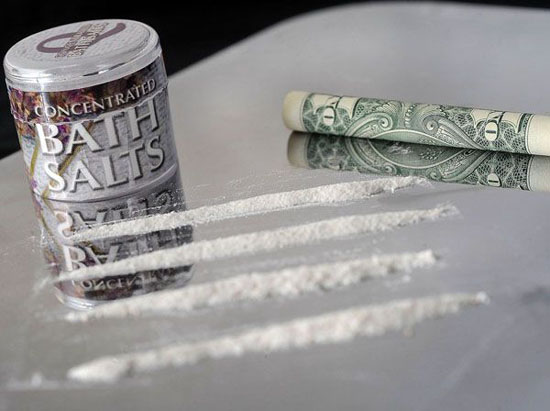 But that doesn't necessarily mean weed — literally the least harmful "drug" known to man — is what made Rudy Eugene eat Ronald Poppo's face. According to the Miami Herald, the medical examiner's report didn't address previously reported autopsy findings of what appeared to be undigested pills in Eugene's stomach … so we'll most likely never know what really unhinged Eugene and caused him to act so violently
As Dr. Bruce Goldberger, Professor and Director of Toxicology at the University of Florida, noted in a report from the Associated Press, "The problem today is that there is an almost an infinite number of chemical substances out there that can trigger unusual behavior," adding that the medical examiner's office in Miami is known for doing thorough work, and he's confident that they, as well as the second lab, covered as much ground as possible.
Still, Dr. Goldberger says that it's almost impossible for toxicology testing to keep up with all of these new street drugs that literally come out of nowhere.
"There are many of these synthetic drugs that we currently don't have the methodology to test on, and that is not the fault of the toxicology lab. The challenge today for the toxicology lab is to stay on top of these new chemicals and develop methodologies for them, but it's very difficult and very expensive." Goldberger said. "There is no one test or combination of tests that can detect every possible substance out there."
Dr. Patricia Junquera, who is an assistant professor at the University of Miami Miller School of Medicine, and is considered an expert on addictions, said she wouldn't rule out the fact that a different "strain" of marijuana could have caused the attack.
"It could have been the strain of marijuana that increases the dopamine in the brain," she said, adding that there are two strains of marijuana called sativa, which increases dopamine and gives you energy, and indica, which is a "sleepy high."
"People don't really know what the amount of either is in each little packet of marijuana," Dr. Junquera explained. "And we can't differentiate between the two in the blood, much less in a dead person."
She also suggested that if Eugene suffered from a mental health condition, "the marijuana could have increased even further the dopamine levels and aggravated the situation," which, she says, is why marijuana can't be totally ruled out.
It's been a little over a month since the May 26th incident, and officials still have no clue what led 31-year-old Rudy Eugene to attack Ronald Poppo, a 65-year-old homeless man who was asleep moments before the assault occurred.
Surveillance video from the Miami Herald's parking garage nearby captured the 18-minute attack, in which Poppo woke up to Eugene stripping him naked, and beating him senseless, while his attacker used his bare teeth to chew off pieces of the flesh from his face.
The police officer who shot and killed Eugene said he growled at him, with pieces of Poppo's face hanging from his mouth, when he was told to stop.
Surprisingly, the homeless man survived the bizarre attack, however … to this day, Ronald Poppo remains in a Miami hospital with some of the most serious injuries to his face doctors have ever seen.
According to local reports out of Miami, Rudy Eugene — a former football player for the North Miami Beach High School — was once diagnosed as schizophrenic after an arrest, and authorities are unsure as to whether or not he sought treatment for the condition.
Eugene was also reportedly accused of threatening to kill his mother in another incident in which he was arrested. But despite all of that, his friends and family members say they never expected the man they knew to commit such a horrific act.
Eugene's friends and family have said that he was a religious, non-violent person, and that he didn't drink or do any drugs other than marijuana. Eugene was reportedly participating in a Bible study and telling friends he wanted to stop smoking weed.
"There's no answer for it, not really," Eugene's younger brother, Marckenson Charles, said in an interview. "Anybody who knew him knows this wasn't the person we knew him to be. Whatever triggered him, there is no answer for this."
Charles said that Eugene has been buried, and his family doesn't plan on pursuing any legal action against the Miami PD for killing Eugene because they understand that the police had to use "the force they felt was necessary, even if we don't agree with that."
Meanwhile, despite the victim's injuries (he lost an eye and his nose, and must undergo another round of reconstructive surgery), Ronald Poppo is said to be "doing well," according to doctors at the Jackson Memorial Hospital's Ryder Trauma Center.
His doctors say that mental health professionals have been helping him with the coping, and he's coping "remarkably well." Poppo's family has said that they haven't been in contact with him for more than 30 years and thought he was dead.
Now that we know that "bath salts" didn't do it (and we know marijuana for damn sure didn't do it)…
What do you think caused Rudy Eugene to attack Ronald Poppo, and chew more than half of his face off?
Be the first to receive breaking news alerts and more stories like this by subscribing to our mailing list.