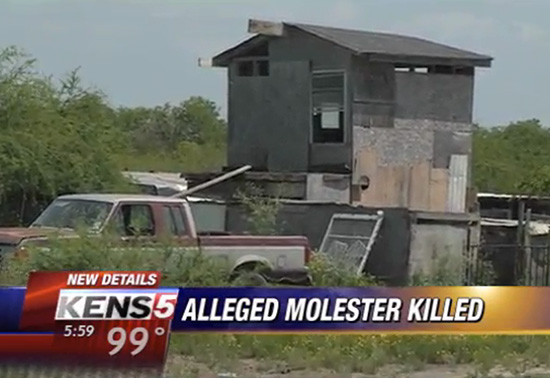 Deputies in Texas say that they are NOT going to pursue charges against a father who used his bare hands to kill another man after he caught him sexually assaulting his 4-year-old daughter.
According to CNN, during a social gathering last Saturday (Jun 9) at his home in Lavaca County, Texas … the father caught a 47-year-old man — whom he was reportedly "casually acquainted" with — attempting to molest his daughter, who had earlier disappeared inside the home, while other family members were outside tending to horses.
Lavaca County Sheriff Micah Harmon says that when the homeowner caught the acquaintance in the act of molesting his young daughter (after hearing her scream), he reacted by repeatedly punching him in the head and face.
The father claims he heard screaming from the barn and arrived to find the man molesting his daughter.
The father struck the would-be abuser so hard, that he was instantly killed … and he was pronounced dead at the scene by responding paramedics.
The names of the father and daughter haven't been released in an effort to protect the identity of the 4-year-old victim, who was described by Sheriff Harmon as "okay, besides the obvious mental trauma" of the incident.
Pending the announcement of his death to his family, the name of the pedophile wasn't released either … but officials say he was a ranch hand from the nearby town of Gonzales.
The Lavaca County Sheriff's Office says that they will defer the case to a grand jury to decide whether or not charges will be brought against the father, who is being hailed as a hero.
"You have a right to defend your daughter," Harmon told CNN. "[The girl's father] acted in defense of his third person. Once the investigation is completed we will submit it to the district attorney who then submits it to the grand jury, who will decide if they will indict him."
Harmon said that the dad was "very remorseful," and he had no intentions of killing the man.
He was just a father trying to protect his daughter, and he definitely succeeded. (Just in time for Father's Day, too!)
A preliminary autopsy report indicated that the victim — who definitely got what he deserved — died as the result of "blunt-force head and neck injuries."
Watch the video report (via KENS5) below:
Do you think the dad is a hero?
Be the first to receive breaking news alerts and more stories like this by subscribing to our mailing list.