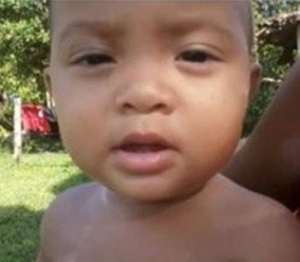 Brazilian news websites are reporting on a bizarre story about a two-year-old boy who, originally presumed dead, woke up at his own funeral, and asked his father for a drink of water before lying back down again in his coffin, lifeless.
According to news sources from Brazil, Kelvin Santos was declared dead after he stopped breathing due to complications from pneumonia at a hospital in Belem, northern Brazil.
SBT — the Brazilian equivalent of CNN — reported that the boy was declared dead Friday night at 7:40 pm, and his body was released to his family in an airtight plastic bag, where he remained for up to three hours before his family gathered later that night for a wake.
The two-year-old's father Antonio Santos said that the next day, while the family was grieving over little Kelvin Santos' open coffin shortly before his funeral, the boy sat up, and asked, "Daddy, can I have some water?"
"Everybody started to scream, we couldn't believe our eyes," Santos told SBT. "Then we thought a miracle had taken place and our boy had come back to life … Then Kelvin just laid back down, the way he was. We couldn't wake him. He was dead again."
Mr. Santos rushed his son back to the hospital, where doctors re-examined the boy and pronounced him dead a second time. "They assured me that he really was dead and gave me no explanation for what we had just seen and heard," he said.
Hoping that little Kelvin would wake up again, his family decided to delay his funeral for at least an hour … but he didn't wake up, and he was buried later that day in a local cemetery.
Mr. Santos says that he believes his son was the victim of malpractice, and has filed a formal complaint with the police who have launched an investigation.
"Fifteen minutes after rushing him away for resuscitation, they came and told me he was dead and handed me his body," Santos said. "Perhaps they didn't examine him properly. Dead people don't just wake up and talk. I'm determined to find out the truth."
We can't help but agree with Mr. Santos. Dead people DO NOT just wake up and talk.
Is it just us … or does something about all of this sound really fishy?
Do you believe this family's story?
Be the first to receive breaking news alerts and more stories like this by subscribing to our mailing list.