Atlanta megachurch Pastor Creflo Dollar was arrested and charged with simple battery, family violence and cruelty to children Friday (Jun 8) after the 50-year-old preacher allegedly assaulted his teenage daughter in their home.
But pastor Creflo Dollar denies abusing his 15-year-old daughter, telling his congregation the following Sunday that allegations detailed in a police report are nothing but "exaggeration and sensationalism."
"I will say this emphatically: I should have never been arrested," pastor Creflo Dollar said in the pulpit at the World Changers Church International — his first public appearance, just two days after he was arrested.
With over 30,000 members, Creflo Dollar — the founder and senior pastor of World Changers Church in College Park, GA — is one of the most prominent (not to mention one of the wealthiest) African-American preachers based around Atlanta, next to Bishop Eddie Long.
Dollar was arrested after his daughter called police to their home at around 1 a.m. early Friday morning. She told the cops that she and her father had gotten into an argument after he told her she couldn't leave to go out to a party.
According to the police report, the girl told a Fayette County sheriff's deputy that Pastor Dollar charged at her, put his hands around her throat, then began to punch her and hit her with his shoe. The deputy noted that he observed a scratch on her neck.
The police report also states that the deputy talked to Dollar's 19-year-old daughter, who corroborated her sister's story, and also told them that her father grabbed her sister's shoulders, slapped her in the face and choked her for "about five seconds." She said her sister tried to break free, but didn't fight back.
The older sister also says that she ran to get their mother after Dollar threw the 15-year-old to the floor. Dollar's wife Taffi told the deputy that she didn't see the fight.
Pastor Creflo Dollar reportedly received an enthusiastic ovation from his church members as he addressed the criminal charges head-on in a message before his sermon:
"I want you all to hear personally from me that all is well in the Dollar household. The truth is that a family conversation with our youngest daughter got emotional … And emotions got involved and things escalated from there.

"The truth is she was not choked, she was not punched. There were not any scratches on her neck … the only thing on her neck was a prior skin abrasion from eczema. Anything else is exaggeration and sensationalism."
Dollar's congregation was supportive as he took the stage, with some people in the sanctuary shouting "We love you!" and "We got your back!"
As the Reverand talked about how difficult it is to deal with teenagers these days in a "culture of disrespect," many of his church members nodded in agreement, the Associated Press reported.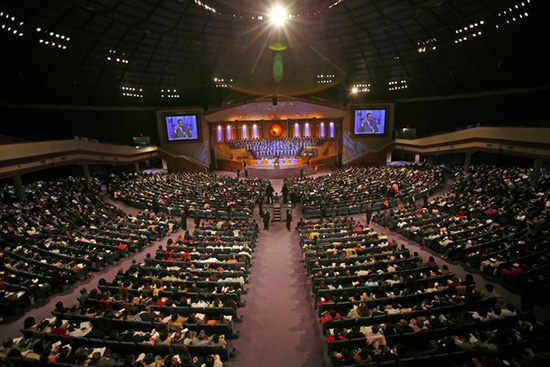 Creflo Dollar — who has a total of five children, and is a native of Georgia — has been preaching for almost 30 years, after originally starting his church in 1986 at an elementary school before growing it into a multi-million dollar operation with a weekly radio broadcast, four services every Sunday, and an $18 million, 8,500-seat sanctuary called the "World Dome."
In a 2007 interview with The Associated Press, Dollar said that he renounced his church salary, and his income now only comes from personal investments, which include a real estate residential property business and a horse-breeding company called Dollar Ranch.
He has said that he sometimes gets paid up to $100,000 as a public speaker, and he is also a published author, with more than two dozen books to his name that mostly focus on family and life issues, like debt management.
Creflo Dollar has built his successful ministry on what is known as "prosperity gospel," which teaches that God wants to bless the faithful with early riches.
Ministers like Like Bishop Eddie Long, Creflo Dollar and others who preach prosperity usually flaunt their own wealth to prove that their method of teaching actually works.
A statement from Rev. Dollar released shortly after the news broke that he had assaulted his daughter read:
"As a father I love my children and I always have their best interest at heart at all times, and I would never use my hand to ever cause bodily harm to my children. The facts in this case will be handled privately to further protect my children. My family thanks you for your prayers and continued support."
His lawyer Nikki G. Bonner added, "My client will make no further comments as this is an ongoing criminal matter."
Do you think Pastor Creflo Dollar is innocent?
Be the first to receive breaking news alerts and more stories like this by subscribing to our mailing list.