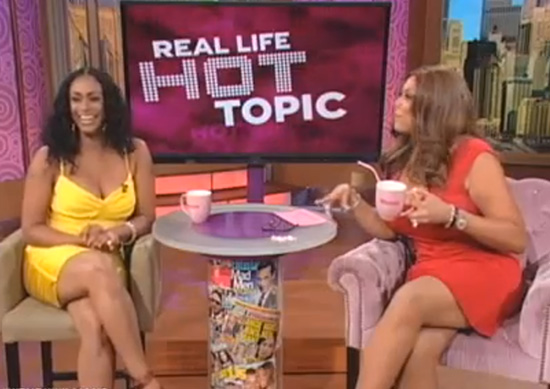 Big bad bully Tami Roman from "Basketball Wives" recently sat down for an interview with Wendy Williams … and as the two talked about Tami's controversial role on the hit VH1 reality series, Tami revealed that her antics on the show leave her daughters embarrassed and disappointed.
After her incident with co-star Kesha Nichols, Tami says she realizes that she now has to be responsible and own up to her mistakes for the sake of her daughters.
I have my gully moments, but I think that everybody does. I think if you turn the camera around on anybody's life for one day, everybody's had a moment that they aren't too proud of.

But I think for me, I am raising my two daughters and this particular incident really taught me a valuable lesson.

I really wasn't acknowledging the platform that VH1 and Shed [Media] had offered me, and I wasn't really being responsible.

And for the first time, I looked at my daughters and they weren't really proud of their mom. They were embarrassed of me.

They take a lot between the social media outlets and everything. And I said, "You know what? It's ridiculous that I'm on TV and I have a huge platform. I should be responsible. I should be accountable," and I haven't really been honoring that.
Tami also revealed that she has landed a role on a scripted series, but she didn't say the name of the show. She also talked about her recent health scare, the upcoming 5th season of "Basketball Wives" and how she's going to be a better person.
Watch the full interview below:
Be the first to receive breaking news alerts and more stories like this by subscribing to our mailing list.