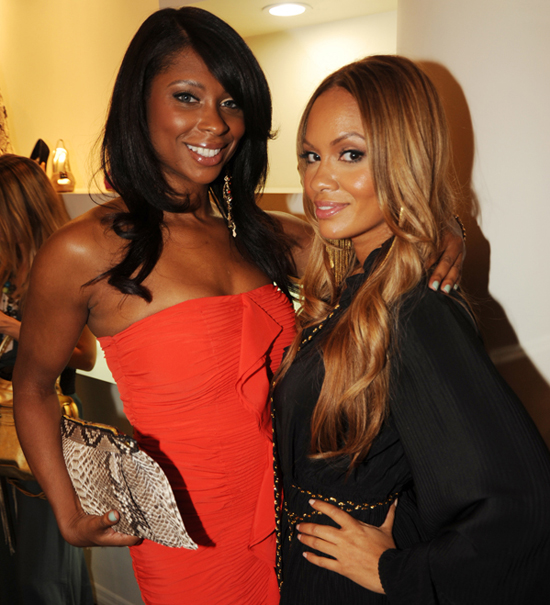 This past season on VH1's "Basketball Wives" saw the collapse of the friendship between cast mates Evelyn Lozada and Jennifer Williams … and now that the show is on break until the next season, Evelyn says that she misses her former BFF, and believes that she could have handled her issues with Jen a lot better.
Evelyn talked about that and more — including her spin-off show with fiancee Chad Ochocinco, her new friendship with Rihanna and what she's learned from being on "Basketball Wives" in an interview with Vibe.com.
Read the excerpts below:
VIBE: In your last chat with Jen, a lot was said. Could you ever move forward into a space where you could at least be in the same room with her?

I think so. A lot was happening during that time. I'm one of those people, I said some things and I was just like, that was not cool. I live by loyalty and I feel like at that point I broke the friend code. I should have never broken that code and I should have never stooped down to that level. Like, if she wants to do interviews and slick comments, it is what it is. I don't hate her. People just get caught up in this industry; you do interviews and say certain things. I truly don't wish her anything negative, we've gone through a lot together as friends from moving out, men drama, all types of stuff. It's just tough having to relive it then talk about it. You never have that time for healing. But now that the show is done and things are calming down, I'm not angry anymore about it and I don't hate her at all. I don't really hate anybody, I was just upset how things were handled.

VIBE: Do you miss her or the friendship?

I miss her. We were friends for 10 years. I was in her wedding, so you know yeah, and your thinking you guys are going to do this show together, your BFF, and then your kind of like what happened? And we are mutual friends with a lot of people, so everything else became weird energy. It was tough.

VIBE: What other lessons have you learned from the show through watching yourself?

Just to probably listen. Everyone always says it on the show, 'Evelyn goes from 0-10.' And that's how I've always been since I was 13. Where I grew up, most people wouldn't say, Okay, let's have a conversation. That's not the way things were dealt with where I grew up. You running your mouth? You talking shit? Things happen. There's consequences for that. I've learned it's not all about screaming and yelling and, 'Oh, you're a fucking bitch.' Most of the time I don't get my point across.

VIBE: So Basketball Wives has been kind of like an anger management tool for you?

Yeah, it has. I was born and raised in the Bronx and went to public school in Manhattan. New York is a hustle and bustle type of place, you're in cab getting cursed out and everyone is so high-strung. You're always on defense mode. I love New York; I wouldn't take anything back, but you become a little aggressive [Laughs].

VIBE: Now, Shaunie's been taking a lot of heat too. What are your thoughts on that?

I've had conversations with Shaunie, and she is in a tough place because she wears all hats, she's Executive Producer, a cast mate, friend to us…it's just tough because you're being pulled from every angle. I can honestly say that from season 1, Shaunie has been an advocate to find a balance. We filmed a charity event for kids with cancer and it was the most amazing charity event that I've ever went to. Even the camera men, grown men, were crying. But it didn't make the cut and they chose to air the part with me calling someone a fucking bitch instead. She's an Executive Producer, but she doesn't know what tapes are being sent to VH1; she doesn't know everything that is going on. But I can guarantee you that it will look different and not only because of all the controversy, but because she's been working so hard to find a balance.

VIBE: So, currently you're filming your spin-off show and wedding special with Chad. Are you scared of the Kim Kardashian, 72-day marriage curse?

[Laughs] No, I'm not. Me and Chad have been together for two years. I feel like if anything is going to happen, it won't be because of the show. We've been together two years, so I think we'll be okay.

VIBE: Now, Rihanna is one of your good friends, but from a role model standpoint, how do you view her influence to younger people?

We became cool on Twitter [laughs], and she's cool! She lives her life and does what the fuck she wants and I love that about her. It's tough because all of a sudden your supposed to be perfect and a role model to everyone and not live your life and I think she does what she needs to do, she's young and having fun. Growing up I didn't necessarily say oh my god look at Madonna I want to be just like her, I just loved her music. I feel like people put so much pressure on these celebrities and it's like I think parents should be role models and if you don't want your kids watching these things then don't. Like my daughter is almost 19 and she will tell you that growing up she had parental control for the TV, because of HBO etc. In my eyes, Rihanna can do no wrong, I think she's an amazing artist. She's gorgeous, handles her business, and lives her life with no apologies.

VIBE: Does she come to you about… let's say, the drama that's been happening with Meek Mill, Drake and Chris Brown?

We don't discuss personal things like that. It's just, if I happen to be in her city or she's in mine, we'll hang out.

VIBE: You both do love the strip clubs, though!

Yeah…[smiles] my alter ego comes out when I'm at the strip club. If me and Chad go together, I totally forget about him [Laughs]. I love the strop club.

VIBE: What is your alter ego's name?

Her name is Ginger. Listen, much respect to all strippers. That is a fuckin' talent! I don't give a fuck what nobody says. To be able to go all the way up on that pole and your butt is dangling from the ceiling! [Laughs] We bond. I don't judge none of those chicks; it is what it is. I love KOD, Onyx in Atlanta, G5 in Miami, but yeah… Chad was the first one to take me to KOD, and he looks at me like, 'Are you ready to go?' [Laughs]

VIBE: Lastly, are you going to go by Evelyn Ochocinco or Evelyn Johnson?

I don't know. I'm going to keep Evelyn Lozada for now because it's a brand that I'm building. It's my own little thing I got going on. We are still on the fence of that though, so we'll see.
Check out VIBE.com for more from the interview!
Do you think Evelyn and Jennifer Williams could ever be friends again?
Be the first to receive breaking news alerts and more stories like this by subscribing to our mailing list.