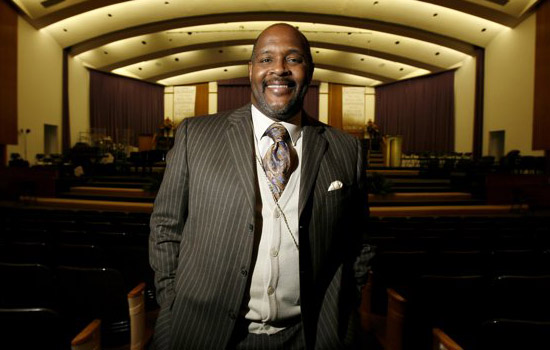 Pastor and gospel singer Marvin Winans — who eulogized Whitney Houston at her New Jersey funeral back in February — was reportedly robbed and car-jacked Wednesday afternoon (May 16) at a Citgo gas station on the west side of Detroit.
Pastor Winans says he felt something was wrong when he came out of the gas station's convenience store and he noticed several men following him.
He says as he was pumping gas, at least two of them men ambushed him, and took his purple Infiniti SUV, a couple hundred dollars in cash, and his watch. In addition to robbing him, the men punched him and even ripped off his pants.
"I'm just saddened that it has come to this," Pastor Winans said, adding that he was not seriously injured.
He continued, "This kind of nonsense just has to stop … It's just the savageness of what's happening in the streets. We just have to take a look at ourselves and say this has to stop."
Following the incident, Pastor Winans suffered minor injuries to his hand, which was bandaged as he spoke to local ABC news affiliate WXYZ in an interview later that night.
Of his injuries, Winans said, "Given the gravity of the situation, it was minor."
Winans said he was disturbed that something like this could happen "in the middle of the afternoon," and at first, "nobody came to help."
Pastor Winans, who leads the 4,500-member Perfecting Church on Detroit's east side, believes his attackers didn't recognize him, "and if they did, it didn't make much difference," he said.
In a message to his carjackers — who still haven't been identified — Pastor Winans said, "Your life has to be bigger than sitting in a gas station and robbing innocent people."
Be the first to receive breaking news alerts and more stories like this by subscribing to our mailing list.