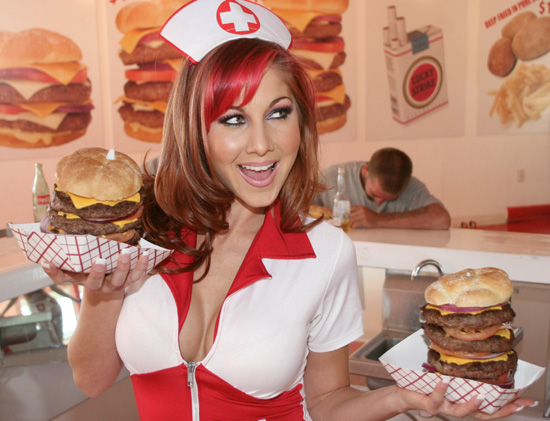 The infamous Heart Attack Grill in Las Vegas almost claimed the life of another customer.
A Las Vegas woman in her 40's reportedly collapsed at the Heart Attack Grill in Las Vegas as she was eating a double bypass burger.
Though the burger itself can't take all the blame, because she was also smoking cigarettes AND drinking a margarita too. (Multitasking at it's finest!)
The restaurant's owner Jon Basso told ABC News that the woman was found unconscious at the restaurant Saturday night (Apr 21) and had to be resuscitated by paramedics.
The woman, whose name wasn't released, is said to be recovering from the incident.
The Heart Attack Grill made headlines back in February after a man in his 40's' suffered an actual heart attack after he wolfed down a Triple Bypass Burger, which is a step down from the much larger, 2-pound, award-winning Quadruple Bypass Burger.
READ: Man Nearly Dies After Eating "Triple Bypass Burger" at the Heart Attack Grill in Las Vegas
"The gentleman could barely talk," owner Jon Basso told reporters at the time. "He was sweating, suffering. Anyone with an ounce of compassion would've felt for him."
Incidentally … last year, the Heart Attack Grill's nearly 600 pound spokesman died at the young age of 29 years old.
Despite the unfortunate events that have taken place, business is still booming at the restaurant, which has signs posted all around that read: "This Establishment is Bad for Your Health."
The 7-year-old restaurant was also recently awarded the Guiness World Record for "Highest Calorie Hamburger" for its nearly 10,000 calorie "Quadruple Bypass Burger," which comes stacked with four huge burger patties, four slices of cheese, red onions, tomato, special sauce and up to 20 strips of bacon.
Yummy.
Be the first to receive breaking news alerts and more stories like this by subscribing to our mailing list.