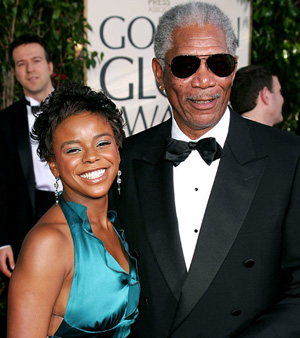 Morgan Freeman wants you to know that he is NOT in a relationship with his step-granddaughter E'Dena Hines.
The actor released a statement to TMZ yesterday denying ongoing rumors claiming the two have been dating for roughly 10 years and were planning to get married in the near future.
"The recent reports of any pending marriage or romantic relationship of me to anyone are defamatory fabrications from the tabloid media designed to sell papers. What is even more alarming is that these fabrications are now being picked up by the legitimate press as well."
E'Dena — who is the granddaughter of Morgan's ex wife and is in no way related by blood to the legendary actor — also issued a statement on the matter.
"These stories about me and my grandfather are not only untrue, they are also hurtful to me and my family."
Morgan says for years, he remained silent up until this point because he didn't want to "dignify these stories by commenting." But he says he felt the need to speak out after the false stories were picked up by various "mainstream outlets."
So there you have it. Morgan Freeman and his step-granddaughter are NOT dating and are NOT getting married. So stop spreading that disgusting rumor! (We're talking about YOU, National Enquirer)
Be the first to receive breaking news alerts and more stories like this by subscribing to our mailing list.