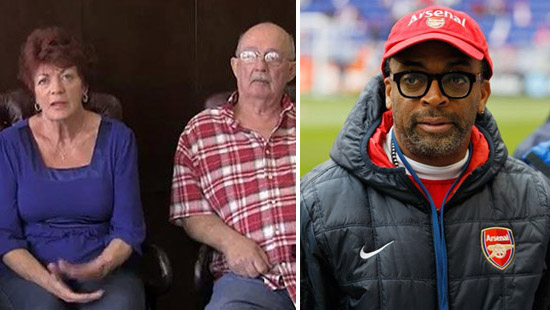 Spike Lee is doing the right thing!

The famed director reportedly apologized to an elderly couple in Sanford, FL who were forced to flee their home after Lee re-tweeted their address on popular social networking site Twitter, thinking that it belonged to George Zimmerman, the infamous neighborhood watchman who fatally shot 17-year-old Trayvon Martin last month.
Lee tweeted Wednesday:
"I Deeply Apologize To The McClain Family For Retweeting Their Address. It Was A Mistake. Please Leave The McClain's In Peace."
Spike Lee also reached an undisclosed settlement with the Florida couple, agreeing to compensate them for basically ruining their lives, according to Elaine and David McClain's attorney Matt Morgan.
"At this point in time, we have come to an agreement with Spike Lee and his attorneys, and at this point, the matter is fully resolved," Morgan said in a statement. "Spike has agreed to compensate the McClains for their loss and for the disruption into their lives. He's taken full responsibility."
Mrs. McClain said the "Do the Right Thing" director was sincere with his apology and "was really kind" during their chat.
"When he called us, you could just tell he really felt bad about it,"" she said. "And it was just a slip, and I just know that he really, really has been concerned."
The McClains, who are both in their 70s, were forced to leave their Sanford, FL home and temporarily relocate to a local hotel when they were bombarded with numeraous death threats, hate mail and unwanted media attention after Lee re-tweeted a message from another Twitter user containing their address to his 250,000+ followers. The address was originally thought to be George Zimmerman's.
Elaine and David say they have no ties what-so-ever to George Zimmerman, but Elaine does have a son named William George Zimmerman, and had records from 1995 when he lived with her at that address.
The Trayvon Martin shooting death case continues to spark outrage across the globe as George Zimmerman hasn't been arrested and charged for his crime.
Be the first to receive breaking news alerts and more stories like this by subscribing to our mailing list.