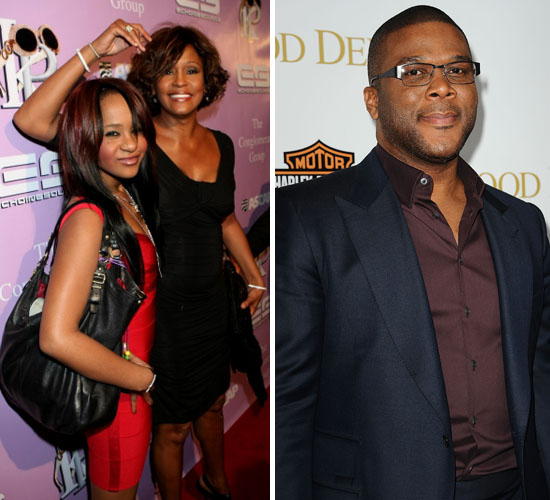 Whitney Houston's troubled 19-year-old daughter Bobbi Kristina just scored a new acting gig, courtesy of writer/director Tyler Perry.
Bobbi Kristina has been coping with the recent and sudden loss of her mother, and has seen her fair share of negative media attention in the past few months, especially in regards to her controversial "relationship" with her play brother turned boyfriend/fiance Nicholas Gordon.
But it looks like Tyler Perry, a close friend of the Houston family, wants to change all of that.
According to our friends over at StraightFromTheA.com, Perry has given Bobbi Kristina a recurring role on his sitcom "For Better or Worse," which was recently picked up for a 2nd season on TBS, and is scheduled to begin airing in July 2012.
The series, which is loosely based on Tyler Perry's 2007 film "Why Did I Get Married?" and the 2010 sequel "Why Did I Get Married Too?" stars Tasha Smith and Michael Jai White as a couple (Marcus and Angela Williams), along with two other couples, who are all at various stages of their relationships as they weather the ups-and-downs of married life and dating.
Atlanta blogger ATLien revealed:
Similar to the film, Smith's character owns a beauty salon on the series and Bobbi Kristina will be featured in a recurring role as the daughter of one of the stylists in the her shop.

The up and coming actress has been spotted coming and going from Tyler Perry's Atlanta Studios for a few weeks now and my spies say that her play brother/boo Nick Gordon is always right by her side.

Pat Houston has also been spotted at the facility, but I would guess it was to negotiate Bobbi's contract to appear on the show.
News of Bobbi Kris landing a recurring role on Tyler Perry's TV show follows a report from US Weekly that states that her loved ones are concerned about she is holding up following the tragic death of her mother Whitney Houston.
The results from the legendary singer's autopsy, released last Thursday (Mar 22), reveal that the "I Will Always Love You Singer" — who died on February 11th in Beverly Hills hotel room — had cocaine in her system at the time of her death.
Just four days later, on Monday (Mar 26), Bobbi Kristina's infamous father, Bobby Brown, was arrested in Los Angeles for a DUI after cops caught him driving drunk in the middle of the day.
Now friends and family of the 19-year-old believe she may be in danger of following in her parents footsteps.
"Everyone is worried about Bobbi," a source tells Us Weekly of the hard-partying teenager, who was hospitalized multiple times for stress right after her mother's passing, and also reportedly went missing "to get high" after Houston's February 18th funeral.
Although Bobbi Kristina's loved ones are doing their best to support her as she grieves the death ofher mother, "Bobbi just doesn't want anyone's help," an insider shares. "She's lost."
Kudos to Tyler Perry for taking Bobbi K under his wing and giving her a chance!
Your thoughts?
Be the first to receive breaking news alerts and more stories like this by subscribing to our mailing list.