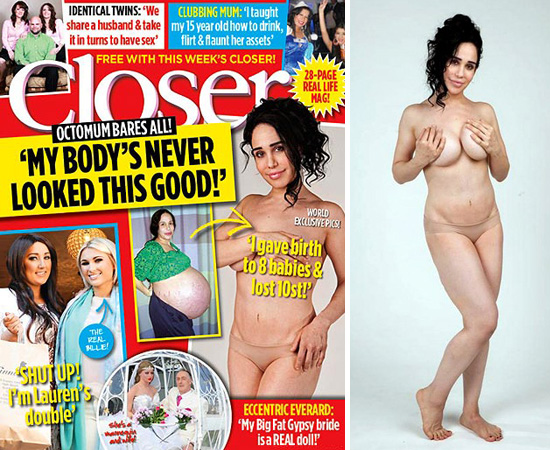 This is pretty gross…
Nadya Suleman aka the "Octomom" is facing rough times, and desperate times call for desperate measures.
According to reports, the mother of 14 is several months behind on her mortgage, and is just days away from being homeless.
So what does a desperate mother of more than a dozen children do in times like these? She poses nude for a foreign magazine, that's what!
The 36-year-old is featured in a racy photoshoot for British magazine Closer, for which she was reportedly paid at least $10,000; and in the story Suleman brags about her "post-babies" body and her 13-year celibacy, and also claims that she has no interest in dating men until her octuplets are 18 years old.
"Men love me, but I will be celibate for the next 15 years," she tells the U.K. publication.
From there she goes on to share a little more information than anyone would care to know, like how many men she's slept with and her "first."
Octomom continued, "I've been celibate for 13 years and plan to remain so until the octuplets are 18. I've only ever slept with two men," she reveals. "The first was when I was 20 – we stayed in touch and he's been my sperm donor, but we don't talk now. The second was when I was 21. He was my boyfriend for five years. We tried for kids, but couldn't conceive."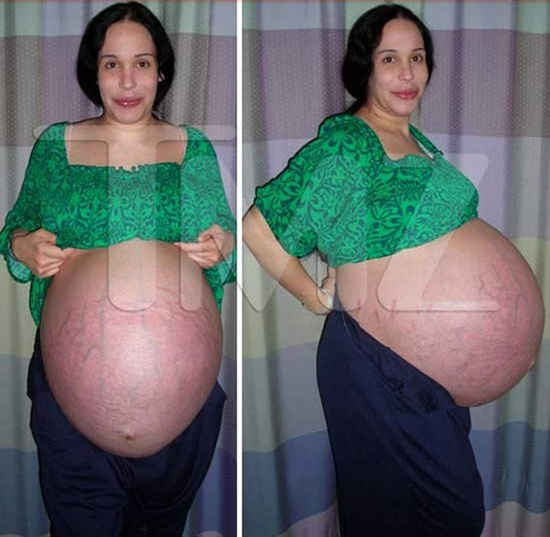 She added, "I wouldn't rule out a relationship in the future. But now, when men look at me, I look away and they know not to approach me. I know I'm beautiful – I don't need a man to tell me that."
Suleman also discussed her parenting skills, pointing out that she's "trained" her litter of children well.
"I've trained them so well, they can brush their own teeth, dress themselves and scrub each other's backs –- they're so independent," she said, adding that the older kids help out around the house, which frees her time up to do the massive family's five loads of washing a day.
But she insists, "It's not chaotic. They're very quiet and obedient and they're well-behaved and smart. The kids have structure and discipline and only eat healthily – they don't know what candy is! I've done a really great job with them – I don't get any credit."
Check out her cringe-worthy "semi-nude" photoshoot below:
This woman is going to make some creepy guy happy one day.
Be the first to receive breaking news alerts and more stories like this by subscribing to our mailing list.