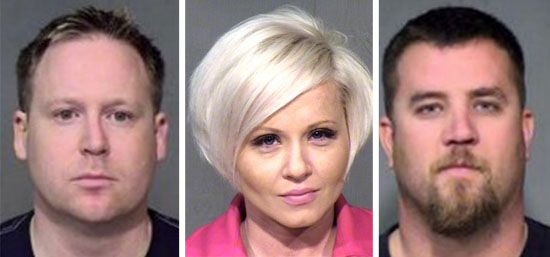 This is so many different types of wrong…
A 33 year-old photographer, her husband, and another man were recently arrested for using Craigslist to find a Golden Shepherd to have sex with.
Sarah and Shane Walker, who both claim to be swingers, spent three weeks on the site looking for a dog that would meet their requirements.
The plan was for Sarah to have sex with the dog while Shane and his wife's lover Robert Aucker would watch.
After sending emails back and forth with an undercover investigator posing as a possible candidate … the three traveled to a hotel in Phoenix, Arizona to meet up with the "owner" of the Golden Shepherd (who was also offered sexual favors from the wife).
Once they reached the location, the trio were instantly arrested by authorities on a felony count of conspiring to commit an act of bestiality.
Sarah's lover Robert Aucker told police that she "had a fantasy of having a dog mount her," and that he met her from an ad on Craigslist and had sex with her "one time prior."
Since the incident, all three have been released from custody and the Walkers were ordered by a judge to arrange alternate care for their two Pomeranians.
WTF is this world coming to???
It's bad enough that people use Craigslist to cheat on their spouses … but for two married people to try and pull off some f**kery like this is a crying damn shame!
Be the first to receive breaking news alerts and more stories like this by subscribing to our mailing list.