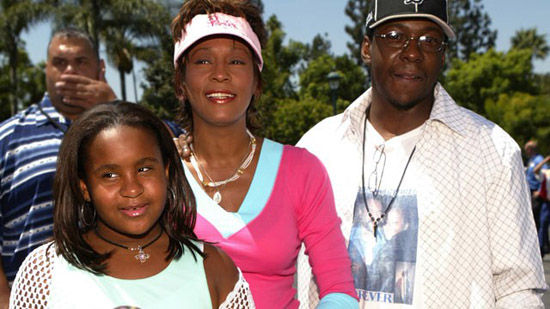 Contrary to previous rumors and reports, Bobby Brown will be attending Whitney Houston's private funeral service in New Jersey this weekend.
TMZ reported earlier in the week that Brown was "extremely disappointed" after learning that several members of his ex wife's family did not want him to attend her funeral.
While he never received any official word from the family about his invite status, "sources" told the website that Brown was warned by several people that the Houston family wasn't very fond of him, so he should stay away from Whitney's funeral.
But it looks like the Houstons have had a change of heart, and realize that Brown needs to be there, especially for his 18-year-old daughter Bobbi Kristina, who has obviously been having a hard time dealing with the sudden death of her mother.
"At the last minute, the family felt that it would keep the peace at the funeral [to have Bobby there] … even though some family members were against it," sources close to the Houston family revealed to TMZ.
The funeral is planned for Saturday at 12 noon. The ceremony will be streamed live online (courtesy of the AP) from the New Hope Baptist Church in Newark, New Jersey.
In addition to Bobby Brown, other celebrities slated to attend Whitney Houston's funeral include Oprah Winfrey, Kevin Costner, Alicia Keys, Tyler Perry and others. Aretha Franklin (Houston's godmother) and Stevie Wonder are scheduled to sing.
Immediately after the funeral, TMZ reports that Bobby Brown hop on a flight to Connecticut where he will perform with New Edition at the Mohegan Sun Indian Casino at around 8pm Saturday night.