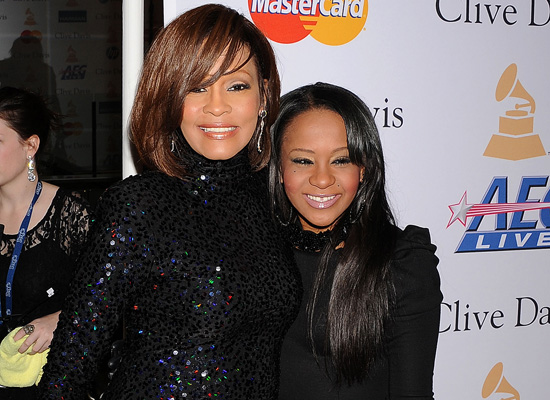 Bobbi Kristina Brown — Whitney Houston and Bobby Brown's 18-year-old daughter — was reportedly rushed to the hospital late last night after having a "complete breakdown," a source confirmed with People Magazine this morning.
According to published reports, Bobbi was taken out of the Beverly Hilton Hotel on a stretcher. The Beverly Hilton is the same hotel where Whitney Houston was found dead less than 24 hours ago.
Law enforcement sources say that Bobbi Kristina was in the hotel lobby around the same time Whitney Houston was pronounced dead at around 3:55 pm PT, but was turned away by police, which resulted in Bobbi getting into an angry shouting match with officers.
"[Bobbi Kristina] was screaming, 'What's wrong with her? What's wrong with her?," a source said.
Later that night, at around 11 pm, the 18-year-old was taken to the Cedars Sinai Medical Center "because she was having a complete breakdown," the source added. She was released shortly after, but TMZ reported this morning that she was rushed to the hospital again, this time via an ambulance.
Bobbi Kristina is Whitney's only child from her marriage to Bobby Brown, which lasted from 1992 to 2007.
"Her life will be shattered," one close source told Us Weekly of Bobbi Kristina following Houston's death. "Bobbi was always by [Whitney's] side in everything she did."
Right now there aren't many details regarding Bobbi Kristina's condition, but she should definitely be kept in everyone's thoughts and prayers…