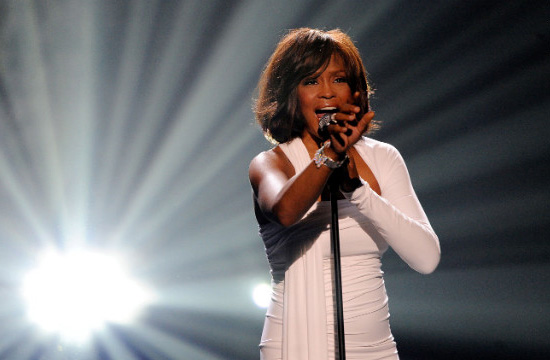 Whitney Houston's sudden and unexpected death Saturday (Feb 11) in Beverly Hills at the young age of 48 has no doubt sent shockwaves throughout the music industry.
Since the extremely sad news broke, several of the R&B/Pop icon's industry friends, associates and admirers have all sent out their condolences either through their respective PR teams or on popular social networking sites like Twitter and Facebook.
Read some of the heartfelt messages below:
Quincy Jones: "I am absolutely heartbroken at the news of Whitney's passing. Ashford & Simpson first made me aware of Whitney when she was just 16, and I always regretted not having had the opportunity to work with her. She was a true original and a talent beyond compare. I will miss her terribly."
Aretha Franklin: "I just can't talk about it now. It's so stunning and unbelievable. I couldn't believe what I was reading coming across the TV screen. My heart goes out to Cissy, her daughter Bobbi Kris, her family and Bobby."
Toni Braxton: "My heart is weeping…RIP to the Legendary Diva & Icon Whitney Houston!!!!! Such an incredible influence over music as a whole! She's paved the way for every single singer in the music industry. Iconic, legendary, innovating, amazing, humble…1 the best in the world"
Mariah Carey: "Heartbroken and in tears over the shocking death of my friend, the incomparable Ms. Whitney Houston. She will never be forgotten as one of the greatest voices to ever grace the earth."
Usher: "R.I.P Whitney Houston… A true icon of our time. Gone too soon. My heart goes out to the family in their time of distress. URIV"
Justin Bieber: "just heard the news. so crazy. One of the GREATEST VOICES EVER just passed. RIP Whitney Houston. My prayers go out to her friends and family."
Tyrese: "WHITNEY HOUSTON HAS PASSED AWAY.. I CAN'T BELIEVE IT.. THIS IS UNREAL.. MAY GOD BLESS HER DAUGHTER AND FAMILY REST IN SINGING HEAVEN …"
Solange Knowles: "At this time, the question is not how she went… It is how she will be remembered. I will always remember Whitney Houston as a true legend. I will always remember Whitney Houston as a true, outstanding, talent. A radiant beauty. A magical smile. A voice that made you shiver."
Rihanna: "No words! Just tears #DearWhitney"
Ne-Yo: "We love you Whitney Houston…"
Alicia Keys: "I feel sick… Life is precious, we are fragile souls. Let's love each other! I miss you beautiful Whitney, the whole world misses you!!"
Diddy: "Whitney Houston!!! OMG!! I really can't believe this.. This is one of the saddest days ever.."
Young Jeezy: "R.I.P. Whitney Houston, 1 of the most talented&beautiful black women of our time. She shared her pain&triumphs with us. #GoneButNotForgotten"
Paris Hilton: "So sad to hear the news about Whitney Houston. 🙁 She was such a beautiful and talented woman. My heart goes out to her family."
Kathy Griffin: "She was A TALENT & A LEGEND. She was never a 'reality star.' No jokes from me about Miss Houston today."
Spike Lee: "God Bless The Dead. Whitney Houston R.I.P. She Was Only 48 Years Young."
Rodney "Darkchild" Jerkins: "Whitney Houston was by far one of the greatest artist I ever worked with. One of the most amazing, anointed, gifted voices I've ever had the chance to capture in the studio. Most importantly she was a beautiful person, she had such a sweet, beautiful spirit. She blessed us with so much greatness in songs that we can never ever forget her. Whitney was a dear friend and my family will truly miss her. Our love and prayers go out to the entire Houston family! We love and miss u Whitney!"
Wyclef Jean: "This is the saddest thing I've ever had to write in my life, R I P to one of the greatest humans that I have ever known Whitney Houston"
Mike Tyson: "Condolences to the Houston family, especially Bobbi Kristina. I'm lost for words. Prayers and love."
Kevin Hart: "I just Heard that Whitney Houston passed away 2day, I want everyone 2 remember her for what she was & that's a LEGEND & A music Icon! RIP My prayers go out to her family & friends!!! I'm speechless right now……RIP Whitney Houston"
Queen Latifah: "Oh Dear Lord! Huritng so Bad!!! MY Sister Whitney!!!!!!! Newark please Pray!!! World Please Pray!"
Kimora Lee Simmons: "RIP Whitney my lady… Always one of the Most Beautiful! Maybe now u will be at peace….love you and the family forever."
Russell Simmons: "deeply saddened by the death of Whitney Houston…may she rest in peace"
Michelle Williams of Destiny's Child: "I truly, truly adored Whitney Houston. Her album 'I'm Your Baby Tonight' was the very first album I ever bought."
Barry Manilow: "I can't believe that Whitney is gone. My heart goes out to her family, to Clive (Davis), and to everyone who knew and loved this amazingly talented and beautiful artist. I will always love her."
Rev. Al Sharpton: "The morning of the Grammys, the world should pause and pray for the memory of a gifted songbird."
Smokey Robinson: "I've know Whitney since she was a little girl and I loved her. She was like family to me. I will miss her."
Tony Bennett: "Whitney Houston was the greatest singer I've ever heard and she will be truly missed."
Nicki Minaj: "Jesus Christ, not Whitney Houston. Greatest of all time."
Swizz Beatz: "I hate to say these words about my sister & friend R.I.P To the Great Whitney Houston you will always be loved in this world!! #Deans"
Kelly Rowland: "I am beyond heartbroken. Whitney Houston was undoubtedly one of the greatest singers & performers of all time & such a huge influence on me. She embraced me when I first started out with Destiny's Child, with love, with encouragement and with that powerhouse voice. My deepest sympathies and prayers go out to her daughter, her mother and to all of her loved ones."
Bruno Mars: "This is terrible news..I'm sick to my stomach. Nobody sang like Whitney"
Christina Milian: "I'm so sad to hear of #WhitneyHouston's passing. May she rest in peace. My prayers & condolences to her daughter & family. 4ever remembered"
Busta Rhymes: "Can't believe we've lost another 1 of our Royalty. Sister Queen Whitney Houston. God Bless on ur journey as u now stand with the Most High."
Lil' Kim: "A voice, a talent, and a spirit that will forever remain incomparable. RIP to the Queen, Whitney Houston."
Jennifer Lopez: "Such a loss. One of the greatest voices of our time. Sending out prayers to her family… #R.I.P.Whitney."
Ciara: "RIP Whitney Houston. A Legend lost:( Her voice was insurmountable, her smile was illuminating, she was truly one of a kind and a huge inspiration to me. She has always had sweet and fun words to say to me. I will cherish the moment I was able to share with her, forever. This is truly unbelievable. My prayers and condolences to her family at this sad time."
Be the first to receive breaking news alerts and more stories like this by subscribing to our mailing list.