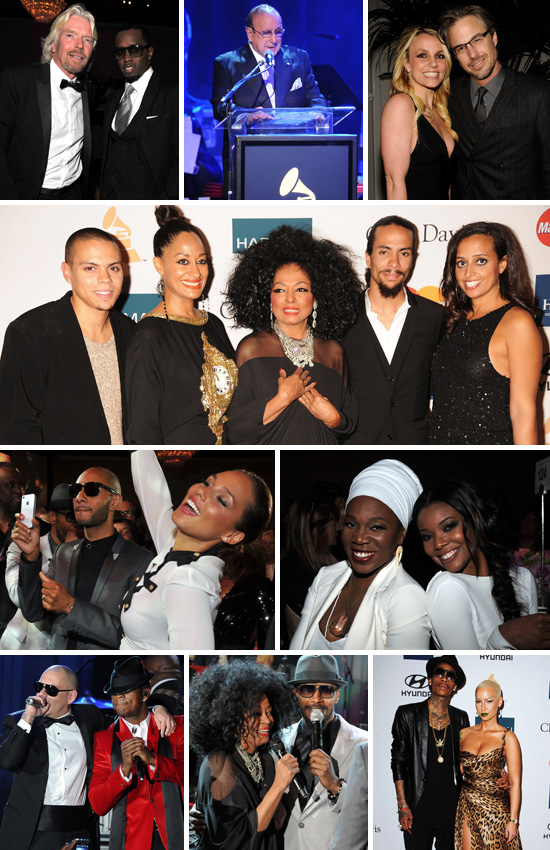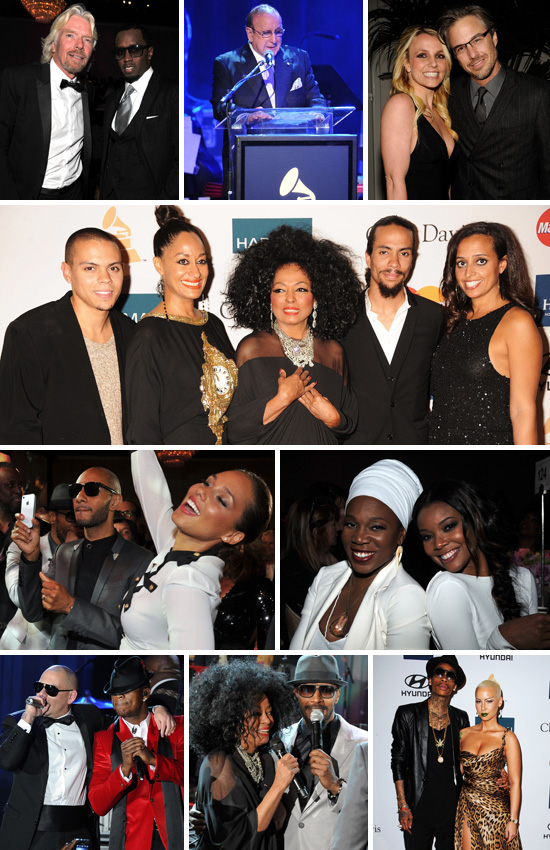 Hollywood gathered on a somber note last night (Sat Feb 11) at Clive Davis' 2012 Pre-Grammy Gala, held at the Beverly Hilton Hotel in Los Angeles, the same hotel where R&B legend Whitney Houston was found dead earlier in the day.
When the sad news broke, there were reports that the annual Clive Davis event would be canceled, but Davis — Houston's longtime friend and mentor — said that the R&B/Pop icon "would have wanted the music to go on."
"She loved music and she loved this night that celebrates music," said Davis, adding that Houston's family requested that the party continue.
Some of the many celebrities in attendance at the Pre-Grammy Gala and Salute to Industry Icons Honoring Richard Branson and Diana Ross included Diddy, Britney Spears, Mary J. Blige, Quincy Jones, Kelly Rowland, Dr. Dre, Alicia Keys, Swizz Beatz, Wiz Khalifa, Amber Rose, Jamie Foxx, Kim Kardashian, Gabrielle Union and more.
The star-studded event also featured performances from Alicia Keys, Ne-Yo, Pitbull, Marsha Ambrosius, Wiz Khalifa, Jessie J and others. Monica and Brandy were slated to perform their new single "It All Belongs to Me", but we're told they were unable to because they were too devastated about Whitney Houston's passing.
Diana Ross, who was being honored at the event, told a red carpet reporter, "I won't be able to enjoy it," when she was asked how she felt about being the night's guest of honor.
"By now you have all learned of the unspeakably tragic news of our beloved Whitney's passing," Clive Davis said at the start of the evening. "I don't have to mask my emotion in front of a room full of so many dear friends. I am personally devastated by the loss of someone who has meant so much to me for so many years. Whitney was so full of life. She was so looking forward to tonight even though she wasn't scheduled to perform."
He continued, "Whitney was a beautiful person and a talent beyond compare. She graced this stage with her regal presence and gave so many memorable performances here over the years. Simply put, Whitney would have wanted the music to go on and her family asked that we carry on."
Check out 40+ photos from the Clive Davis 2012 Pre-Grammy Gala below: