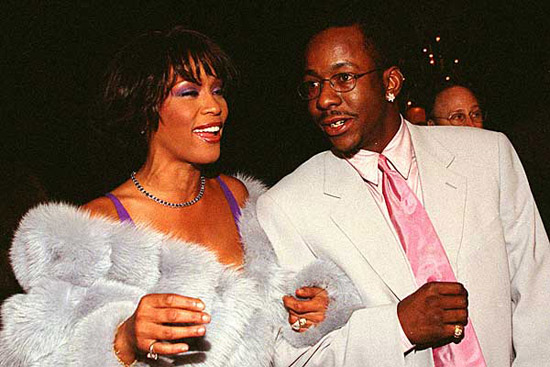 Whitney Houston's ex husband Bobby Brown is among the many celebrities who have been left devastated by the singer's unexpected death over the weekend.
After hearing the news that his former wife (and the mother of his daughter Bobbi Kristina Brown) had suddenly passed, Bobby Brown — who was preparing to go on stage in Mississippi with his New Edition bandmates — was reported by TMZ to be "distraught" and "in and out of crying fits."
The New Edition concert in Mississippi went on as scheduled, and Bobby performed with the group, but it was obviously difficult for the R&B singer, who paid tribute to Houston in the middle of his performance by pointing to the sky and saying, "I love you Whitney."
"The hardest thing for me to do is to come on this stage," Brown told the sold out crowd before walking off the stage to grieve, unable to finish the show.
Brown, who divorced from Houston in 2007 after 15 years of marriage, said he chose to go on with the performance because New Edition fans have been loyal to the group for more than 2 decades.
One of Houston's early hits "You Give Good Love" played during an intermission, which prompted fans to stand up and sing along to the music.
Brown and Houston married in July 1992 and had one daughter, Bobbi Kristina, on Mach 4, 1993.
The couple's infamously tumultuous relationship was often tabloid fodder and the subject of a ton of (mostly negative) media attention up until they separated in September 2006, followed by their divorce in 2007.
"When you love, you love. I mean, do you stop loving somebody because you have different images? You know, Bobby and I basically come from the same place," Whitney Houston told Rolling Stone in 1993. "You see somebody, and you deal with their image, that's their image. It's part of them, it's not the whole picture. I am not always in a sequined gown. I am nobody's angel. I can get down and dirty. I can get raunchy."
Many of Houston's fans will forever blame Brown for Houston's later personal difficulties, which included a purported drug habit Houston once denied.
Bobby Brown released an official statement on Sunday, saying, "I am deeply saddened at the passing of my ex-wife, Whitney Houston. At this time, we ask for privacy, especially for my daughter, Bobbi Kristina. I appreciate all of the condolences that have been directed towards my family and I at this most difficult time."
Be the first to receive breaking news alerts and more stories like this by subscribing to our mailing list.