Another day, another teacher thrown in jail for having sex with kids.
Over a period of 10 years, 44-year-old Sarah Jane Lindsay hosted sex parties at her home with underage teens, and now — after pleading guilty to criminal sexual conduct and contributing to the delinquency of minors — Ms. Lindsay will spend the next 10 tears of her life behind bars. (Oh, the irony…)
With the help of her 46-year-old teaching assistant Audrey Beidleman Grabarkiewicz, Lindsay, who is was a pre-school teacher at Boiling Springs Elementary School in Spartanburg, South Carolina, threw summer sex parties at her home, with as many as ten students attending one party.
Police say they found out about the teenage sex parties, which were held at the women's homes, after one of the teens' parents found out their child had been given alcohol and contacted them.
After launching an investigation, police found out the women used alcohol and marijuana to lure the teens to the party.
The two teacher cougars were immediately suspended from their jobs as pre-school teachers after they were arrested.
Lindsay, who is married with children, is facing more serious charges than her friend/colleague since the boys she admitted to having sex with are all under the age of 14, with some being as young as 11 years old.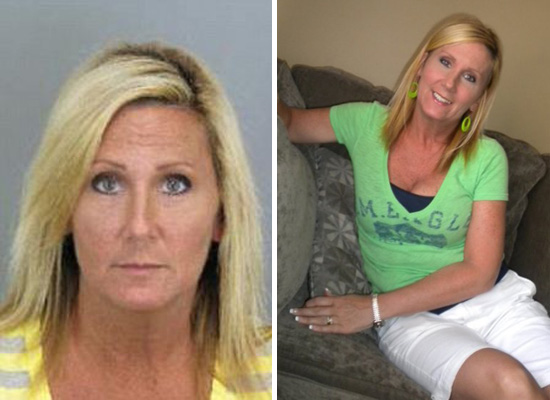 Grabarkiewicz, Lindsay's friend, who is also a mother, was charged with 10 counts of contributing to the delinquency of a minor, and since the boys she had sex with were of the age of consent under South Carolina law (16 years old), she won't be facing any sexual misconduct charges.
According to local reports, Ms. Lindsay — who did not have a prior criminal record — must serve 80 percent of her 10-year sentence, with credit for 473 days served, and will be added to the sex offender registry, which means that she will probably never be able to work with children again.
GoUpstate.com reported that Ms. Lindsay must also serve five years probation and will be required to attend mental health counseling when she's released from prison.
"Most teachers do a great job serving children and unfortunately Ms. Lindsay is an example of an educator who has not," Spartanburg official Murray Glenn wrote in an email. "She made some mistakes and she is going to jail for it."
Be the first to receive breaking news alerts and more stories like this by subscribing to our mailing list.