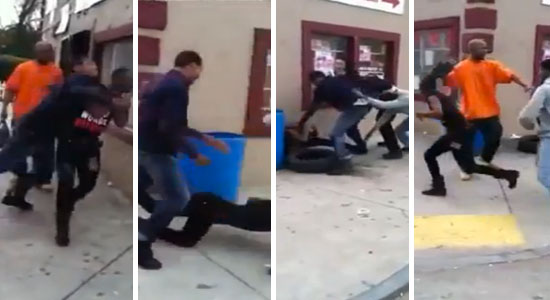 A federal investigation has been launched after video footage showing a group of Atlanta gang members brutally beating a gay Atlanta teenager went viral this week.
In what started out as a local investigation, has now gone federal, and now the feds are looking into whether the guys were performing a hate crime in the shocking video footage (below).
The 30-second video clip, which was posted to f**kery central WorldStarHipHop, shows a young man dressed in all black getting ambushed and pummeled by at least 3 other men as he exits a convenience store.
The victim is then set upon by three men who punch and stomp him while he tries to cover his head. One of the attackers–who is wearing a shirt with "Jack Gang" imprinted on the back–even strikes the victim in the head with a tire.

As the man is beaten, the giggling cameraman announces, four times, "No faggots in Jack City." An onlooker can be heard saying, "No faggot, man." The video ends after one assailant picks up the victim's cell phone and then punches the man in the head while holding the device.
Officials aren't sure when the video was recorded, but Atlanta police were made aware of the shocking video footage shortly after it was posted, and have now located the victim, who, along with his family, is fully cooperating with the investigation.
"Atlanta police investigators were able to locate the victim … who gave a statement to investigators," Atlanta Police Department spokesman Carlos Campos said in a statement Tuesday night.
"We're looking into the possibility of it being a federal hate crime," FBI spokesman Stephen Emmett told the AJC on Tuesday.
Police say they're still looking for the thugs in the video, and are asking anyone with information to call Zone 3 police officers at 404-624-0674 or call anonymously to Crime Stoppers Atlanta at 404-577-8477.
Be the first to receive breaking news alerts and more stories like this by subscribing to our mailing list.