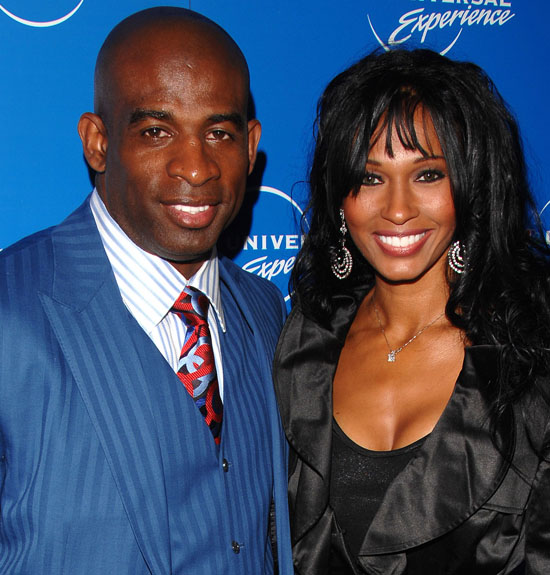 Sounds like things between Deion Sanders and his estranged wife Pilar are getting extra ugly. (Even uglier than the usual!)
Pilar has now filed a lawsuit against Deion, claiming that he "orchestrated" a violent attack on her in an effort to get her out of his Texas mansion.
According to TMZ, Pilar filed suit against Deion and a woman named Laura Jones, who, as we reported yesterday, allegedly attacked Pilar earlier this week after she asked Laura to leave the home because she wasn't welcome.
But Deion has a totally different account of the situation. He says that the woman in question — Laura Jones — is his aunt, and she was attacked by Pilar while she was at the home trying to fix their phone system.
My AUNT Laura Jones was at my home fixing my phone system and was attacked. We have proof. We apologize for these weekly ignorant lies!TRUTH

— DeionSanders (@DeionSanders) February 7, 2012
Enough is Enough we're so tired and exhausted from the lies and foolishness. My kids are being affected weekly with these false allegations.

— DeionSanders (@DeionSanders) February 7, 2012
Still, Pilar is suing Deion because she believes that he is lying about Laura being his aunt, and she was not there to fix a phone system. According to Pilar's story:
Deion summoned Laura — his "fake aunt" — to help him physically remove Pilar from the home on Feb. 6 so Deion could change the locks and bar her from returning.

Pilar claims Jones is legally banned from entering the home … but she entered the place anyway … so Pilar says she demanded that the woman leave immediately. Instead, Pilar claims, the woman "squared off and took a swing at [Pilar] hitting her in the eye."

Pilar says Laura "continued to hit, slap, punch, choke, push and kick" her … causing various injuries. Pilar says she was so scared, she grabbed a KITCHEN KNIFE and prepared to defend herself until cops arrived.
Until all of this gets sorted out, Pilar has asked a judge to issue a restraining order against Deion's "fake aunt" Laura, and she's also asking the former NFL star to pay up for the "mental and physical pain" she created for herself claims she has experienced from the drama.
That damn Pilar… SMH!!!
Who do you believe? Pilar or Deion?
Be the first to receive breaking news alerts and more stories like this by subscribing to our mailing list.