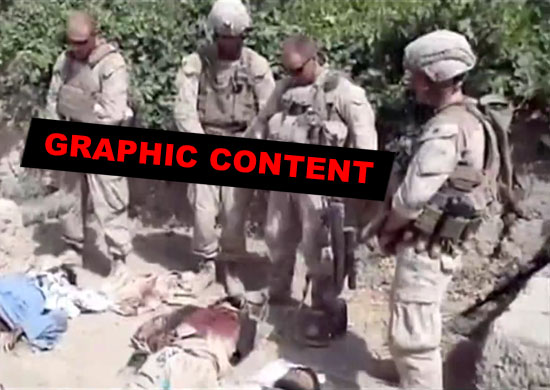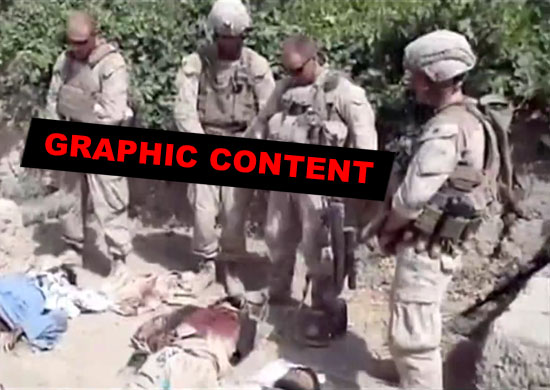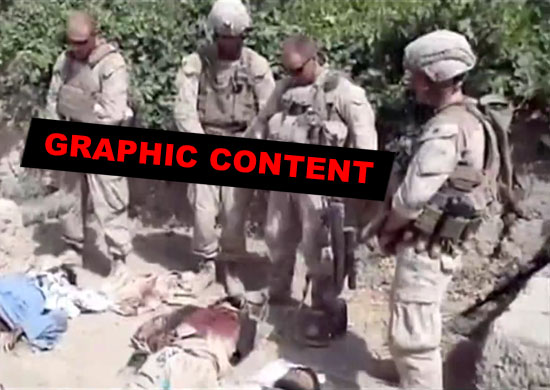 The United States Marine Corps say that a video posted online this week showing U.S. Marines stationed in Afghanistan urinating on several dead Taliban bodies will by "fully investigated."
The extremely graphic video, which was posted Wednesday morning, is around 39 seconds, and shows at least 4 male Marines literally peeing on the bodies of 3 dead men dressed in traditional Afghan clothing.
The Marines can be heard laughing and joking, while one Marine says, "Have a great day, buddy!" Another guy jokes, "Golden like a shower!"
The disturbing video's caption reads, "scout sniper team 4 with 3rd battalion 2nd marines out of camp lejeune peeing on dead talibans."
Shortly after it was posted, the video went viral and has appeared on hundreds, maybe even thousands of websites.
Muslim organizations across the United States expressed their outrage over the videos to gossip website TMZ, calling the footage "disgusting," and asking that the soldiers be rightfully punished.
"We are appalled by the video" … a rep for the Muslim Public Affair Council tells us … adding, "We ask Secretary of Defense Leon Penetta to reprimand these soldiers. These soldiers don't stand for what our nation and our army and armed forces fight for on a daily basis."

The Washington-based Council on American-Islamic Relations (CAIR) had a similar opinion — saying, "We condemn this apparent desecration of the dead as a violation of our nation's military regulations and of international laws of war prohibiting such disgusting and immoral actions."

CAIR adds, "If verified as authentic, the video shows behavior that is totally unbecoming of American military personnel and that could ultimately endanger other soldiers and civilians."

[TMZ]
The desecration of corpses during wartime violates military law and could possibly land these guys in front of a court-martial, a judicial court for trying members of the armed services accused of offenses against military law.
Marine Corps spokesman Capt. Gregory Wolf said in an e-mail that the authenticity video hasn't been confirmed, nor has its origin been tracked down.
"The actions portrayed are not consistent with our core values and are not indicative of the character of the Marines in our corps. This matter will be fully investigated," Wolf said.
Be the first to receive breaking news alerts and more stories like this by subscribing to our mailing list.