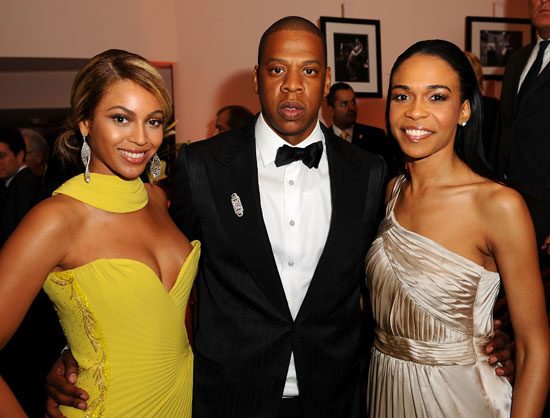 Michelle Willimas has fired back at Twitter users who have recently criticized her for not sending out any congratulatory tweets to Beyonce and Jay-Z this week following the birth of their newborn daughter Blue Ivy Carter.
Shortly after the news broke that Beyonce and Jay-Z's baby girl was born, lots of celebrities took to Twitter to congratulate the couple, however, one celebrity was missing from the mix, which raised some questions.
When former Destiny's Child member Michelle Williams didn't tweet about baby Blue Ivy, some crazy azz Beyonce stans users decided to take it upon themselves to 'put her in check.'
One user wrote, which Michelle retweeted:
[blackbirdpie url="https://twitter.com/#!/RealMichelleW/status/156116748448432128″]
Michelle didn't take the criticism lightly though. She instantly fired back at the fans questioning her, telling them she's too close to Beyonce to congratulate her on Internet, where Williams points out the superstar won't even see it, since she doesn't even use Twitter.
Let's get ONE thing straight….I do NOT have to say congrats to someone when they're NOT on twitter…ESPECIALLY when I talk or email them all the time….or when I'll be physically present as well…so harrassing and stalking my timeline to see if I've mentioned something is POINTLESS!!! My friendship with people aren't always for twitter display. Respect that and get a LIFE!!! Enjoy this FINE day!!! God bless!!!!
She later tweeted:
[blackbirdpie url="https://twitter.com/#!/RealMichelleW/status/156119626701479936″]
Apparently, the next day Michelle continued to receive tweets from users who felt like she needed to say something about Blue Ivy on Twitter. A user tweeted, "So no congrats to Beyonce from you ey? Interesting *pauses to think* @RealMichelleW"
Michelle responded, "@10ebaby i Already told her…..IN PERSON……now let it go my love!!!!"
Thoughts?
Be the first to receive breaking news alerts and more stories like this by subscribing to our mailing list.