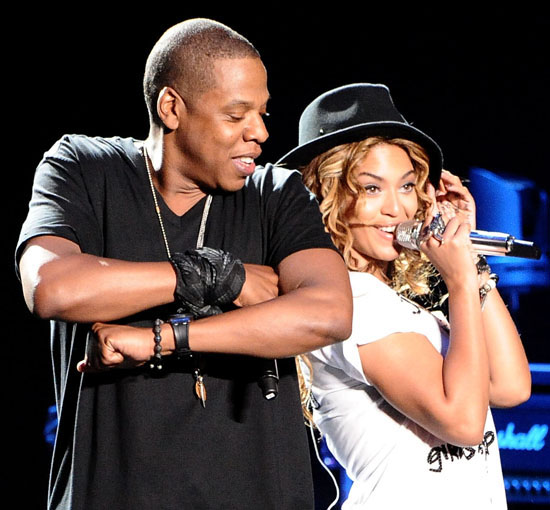 Now that Beyonce and Jay-Z have finally welcomed their first child into the world, lots of people have questions about why the superstar couple decided to name their newborn daughter "Blue Ivy Carter."
While there has been no official word from the intensely private couple on why they gave their daughter such a unique name, and how they came up with it, fans of Jay-Z (born: Shawn Corey Carter) have long known that the color 'blue' holds a special place in the rapper's heart.
"My favorite hue is Jay-Z blue," he raps in the song "Go Crazy" featuring fellow rapper Young Jeezy.
And not only that, but Jay-Z has also has a popular album series called "the Blueprint," which has seen three releases so far ("Blueprint 1" – 2001, "Blueprint 2" – 2002, and "Blueprint 3" – 2009).
As far as the baby's middle name "Ivy" is concerned, it's a well-known fact that Jay-Z and Beyonce (born: Beyonce Giselle Knowles) both have a 'thing' with the number 4.
Jay-Z's Birthday: December 4th
Beyonce's Birthday: September 4th
The day Beyonce and Jay-Z got married: April 4th
Beyonce's latest album: "4"
Jay-Z's next (rumored) solo album: "The Blueprint 4"
And since the Roman Numerals for the number 4 is "IV," it only makes sense that they would come up with the name "Ivy." (Get it? I-V?)
READ: Beyonce and Jay-Z Release Statement Confirming Birth of Blue Ivy Carter
There are also some bizarre Illuminati-based theories surrounding BIC's name, like the theory that "Blu Ivy" spelled backwards is "Eulb Yvi," which is supposed to be Latin for "Lucifer's daughter." Or that "Blue" is an acronym for "Born Living Under Evil," and "Ivy" stands for "Illuminati's Very Youngest."
But of course those are just "theories" made up by people with a lot of free time on their hands who seriously and truly believe that Beyonce, Jay-Z and a number of notable celebrities and public figures are a part of a "secret" society, that isn't such a secret if everybody knows about it. (Right?)
As the International Business Times points out (regarding the whole "daughter of Lucifer" thing):
Though the Bible doesn't explicitly say if angels possess the capability of reproduction, there is no mention in the Scripture either of Lucifer having a daughter.

As for the claim that "Eulb Yvi" means "Lucifer's daughter" in Latin, there is no indication that these words have any Latin meaning. As per Google Translate, "Daughter" in Latin is "Filia" and "Lucifer" is Latin for "Morning Star." So how is "Eulb Yvi" Lucifer's daughter?
So there you have it. Lucifer doesn't have a daughter and isn't even capable of reproduction. Who would want to have a child with him anyway? Just doesn't make a whole lot of sense…
What do you think about Beyonce and Jay-Z naming their newborn daughter Blue Ivy Carter?
Be the first to receive breaking news alerts and more stories like this by subscribing to our mailing list.