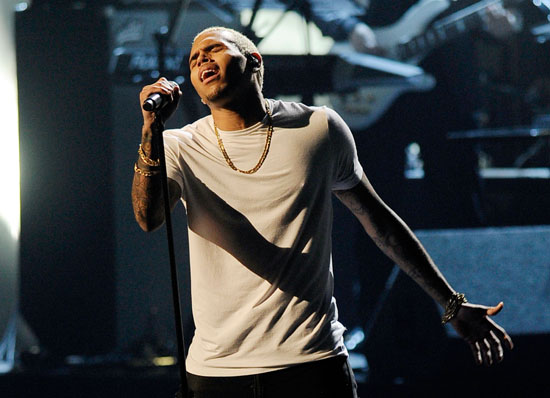 Chris Brown is trying something new for 2012.
In a rather extreme effort to keep his image as squeaky clean as possible for the new year, Chris Brown has announced (through his manager) that he will not be doing ANY interviews this year.
He will instead put extreme focus and dedication into recording new music and performing shows. Or, in other words, he's letting his talent, rather than his mouth, speak for him.
"We're not trying to be rude, selfish or disrespectful to anyone in anyway. If people are going to judge anything, judge him for his talent," the R&B singer's manager Tina Davis said in a statement.
2012 will also mark the first time in 3 years (since the Rihanna incident) that Chris Brown will attend the Grammy Awards, where he has scored 3 nominations in the categories of "Best R&B Album," "Best Rap Performance," and "Best Rap Song."
"Chris has grown tremendously as a person, and an artist from that time in his life," a source close to Brown tells RadarOnline.com.
"Chris has complied with all terms of his probation and has completed most of his court ordered community service. He has been a model probationer, but more importantly, Chris accepted responsibility for what he did."
The source continued, "Chris took that experience and vowed to learn from it and become a better person, and he was thrilled and truly humbled that he was nominated for three Grammys."
"Chris absolutely plans on attending the Grammys and is in talks with producers of the show to possibly perform. Chris performed at the MTV Video Music Awards several months ago, and his performance was simply over the top as he was flying through the air like an acrobat. Chris' performance stole the show, and he would love to do something at the Grammy's to top his VMA performance," the insider added.
Rihanna also scored a few Grammy nods of her own, and thankfully, just last year, a Los Angeles judge eased up on the restraining order that would have legally required the two singers to stay several hundred yards away from each other … which would have been damn near impossible, most likely.
It will be also very interesting to see if the two decide to pose for any photos together (or even near one another) while at the event.
Your thoughts?
Be the first to receive breaking news alerts and more stories like this by subscribing to our mailing list.