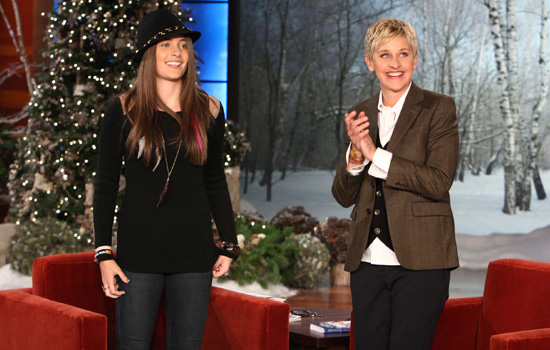 Michael Jackson's daughter Paris Jackson sat down with daytime TV talk show host Ellen DeGeneres for a rare interview where the celebuspawn talked about a number of topics, including the best advice her father gave her before he died, her acting dreams and more.
"He said, 'If I die tomorrow, always remember what I told you.' I took his advice, and I remembered everything he told me," the 13-year-old said in an interview scheduled to air on 'The Ellen DeGeneres Show' on Thursday (Dec 15).
In her first-ever solo TV interview, Jackson also discussed the famous masks her late father made her and her two brothers wear whenever they went out with him in public.
"I'm like, 'This is stupid, why am I wearing a mask?'" she told DeGeneres. "But I kind of realized the older I got, like, he only tried to protect us and he'd explain that to us too."
These days, she says she lives a relatively normal life. "I'm treated the same. When I [went to school], they didn't know who I was. I was like, yes, I have a chance to be normal."
But now, after being sort of 'incognito' for so long, Michael Jackson's only daughter has decided to step in the spotlight herself after snagging a role in the upcoming fantasy film "Lundon's Bridge and the Three Keys."
"My dad was in the movie Moonwalker, and I knew he could sing really well but I didn't know he could act. I saw that and I said, 'Wow, I want to be just like him,'" Paris told Ellen. "We would do improv together. He would give us little scenarios. He would go, 'Okay, in this scene you're going to cry,' and I'd cry on the spot."
Check out a clip from the interview (set to air in full tomorrow) below:
Be the first to receive breaking news alerts and more stories like this by subscribing to our mailing list.