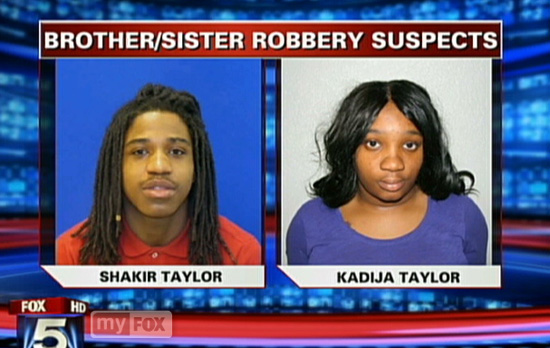 Maryland police arrested a brother and sister who robbed a bank earlier this week … which isn't really that newsworthy when you look at it on the surface.
However, once you get further into the story, and find out that the bank was literally right down the street from the their home … that's when things really get interesting!
Shakir and Kadija Taylor entered the bank on the 3700 block of Donnell Drive in Forestville on Nov. 8, passed a note to a teller demanding cash, grabbed their loot and fled on foot, according to Upper Marlboro Patch.

It wasn't a long getaway, police told MyFoxDC. The siblings also live on the 3700 block of Donnell Drive.

Kadija Taylor, 20, was arrested on the day of the stick-up. Thanks to information received via the Prince George's County Crime Solvers tip line, detectives located Shakir Taylor, 19, and took him into custody in his home on Monday, according to a police press release.

The pair are also being investigated for their possible involvement in several other bank robberies in the area.
How dumb can you be to rob a bank … that's on the same block you live on?!? Where they do that at?
Be the first to receive breaking news alerts and more stories like this by subscribing to our mailing list.