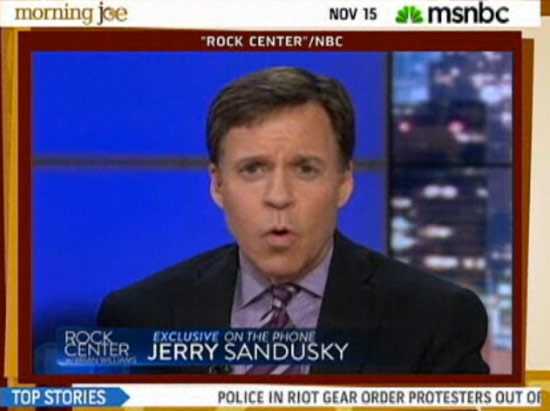 Jerry Sandusky claims that he is not a pedophile. (GTFOH!!!!)
In a strange interview with NBC sportscaster Bob Costas, Sandusky says his only regret is showering with underage boys and that he never sexually molested anyone.
Here are Jerry Sandusky's ACTUAL words from the interview:
Am I sexually attracted to undersage boys? [pause] Sexually attracted? No, you know, I enjoy young people. I love to be around them. But no, I'm not sexually attracted to young boys.

I have horsed around with kids. I have showered after workouts. I have hugged them and I have touched their legs without intent of sexual contact.

I shouldn't have showered with those kids
Watch below:
SDMH … that old bastard is straight up lying through his teeth! Listen to how long it takes him to respond to each question. Who has to ponder over whether they're a pedophile or not??? We can tell you the answer to that one … A PEDOPHILE!
Be the first to receive breaking news alerts and more stories like this by subscribing to our mailing list.