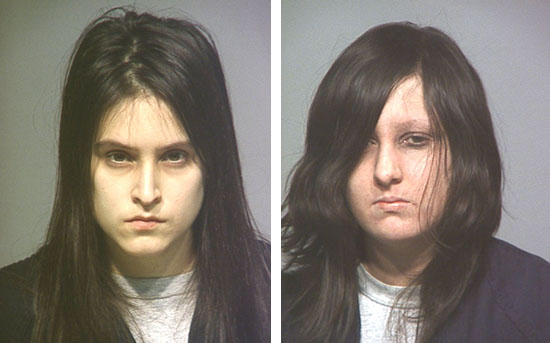 Two bat-sh*t crazy Milwaukee women were arrested last week after an 18-year-old man from Arizona, who traveled via bus to meet the girls to have a threesome after meeting one of them online, told police that they had held him hostage for two days, and stabbed him hundreds of times as part of a weird Satanic sex ritual.
The Smoking Gun has all of the details below:
The police investigation began Sunday night after cops responded to a report of a possible stabbing. Officers found the Arizona man "bleeding from the neck, arms and back." He told cops that after arriving at the home of a woman he met online, he "was bound and was stabbed numerous times over a timeframe of what he described as 'two days.'"

The man was transported to a local hospital, where medical personnel "estimated the number of wounds to be in excess of 300," according to a search warrant affidavit sworn by Detective Michael Walisiciwicz. "He suffered multiple puncture wounds as well as lacerations and slash wounds to his back, face, arms, legs and neck," noted Walisiciwicz.

Officers responding to the reported stabbing discovered "bloody duct tape, which was fashioned in a manner that appeared to be a restraint, as well as a bloody length of rope" in the area where the victim was found.

A blood trail led police to Apartment 9 on the third floor of 918 East Knapp Street. Inside, cops spotted a "large amount of blood on the floor and on bedding in a bedroom." They also saw "duct tape, which was fashioned in a manner that appeared to be a restraint."

While at the apartment building, police were approached by Rebecca Chandler, 22, who stated, "I think you are here looking for me." Chandler told cops that she had engaged in sexual relations with the Arizona man "and that the cutting was consensual but that it got quickly out of hand."

Chandler claimed that her roommate–whom she identified only as "Scarlett"–was "the one who did the majority of the cutting" during the incident. Chandler, police reported, "also made reference to 'Scarlett' possibly being involved in satanic or occult activities."

Chandler was placed in custody at the scene. During a subsequent search of the apartment, investigators seized copies of "The Necromantic Ritual Book" and "The Werewolf's Guide to Life," a humor book. The former book promises to enable a reader to "share consiousness with the Angel of Death."

Paperwork seized from the home was described by police as the "7 Pentacles" of planets. Additionally, a black folder was described as an "Intro to Sigilborne Spirtits," an apparent reference to "The Sigil-Born," metaphysical entities that are "occultic practitioners" of necromancy, the purported ability to contact the dead.
Cops later identified "Scarlett" as 20-year-old Raven Larrabee, and arrested and booked her into the Milwaukee County Jail on $100,000 bail, along with Chandler, whose bond was set at $150,000.
The women haven't been charged by prosecutors yet, but they are currently being held on suspicion of reckless injury, which is a felony.
As far as the "victim" is concerned, we hope he learned a valuable lesson from all of this. Be careful who you choose to have a threesome with … or you may end up covered with over 300 stab wounds!
Be the first to receive breaking news alerts and more stories like this by subscribing to our mailing list.