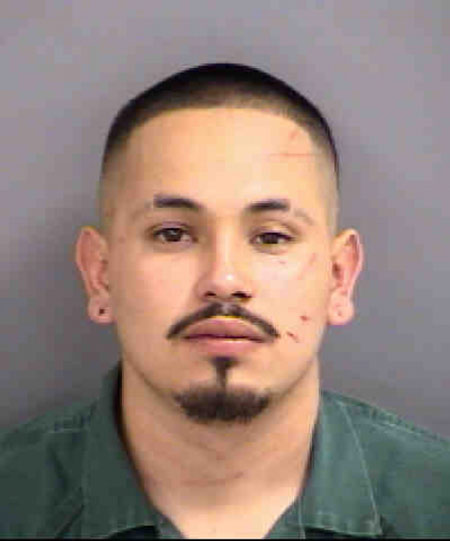 Ladies, if this man ever offers you an invitation to have a threesome … run until your legs fall off!
Jorge Daniel Silva was recently arrested for swinging out on his wife and brutally beating her with a TV (yes, you read that correctly) for kissing another woman who was a part of their ménage à trois.
The full story is below:
A Southwest Florida man's planned threesome with his wife and another woman ended with him behind bars on felony battery charges after he allegedly punched and swung a TV at his bride.

Jorge Daniel Silva of Naples was arrested Sunday after police said he became enraged when the threesome went awry, according to a Collier County Sheriff's Office report obtained by the Naples Daily News.

Silva's wife told deputies that her husband "freaked out" when the two of them began kissing and started hitting her, the report said.

The wife and the other woman locked themselves in a bedroom, but Silva broke through the door and continued the attack, the report said.

As the wife curled up to avoid getting hit, Silva punched her and "swung the TV at her like a bat." Silva hit her twice with the TV before dropping it on her, then grabbed a second TV set and threw it at her, the report said.

When the other woman tried to break it up, she told deputies, Silva would punch her, the report said.

Deputies arrived and found Silva's wife covered in blood, her face swollen and sporting what looked like a broken nose.

Silva told deputies his wife had attacked him after she kissed the other woman, and said he was jealous after the women started kissing and wouldn't let him in on it. He also said he knocked down the bedroom door because he thought the two were having sex without him, the report said.

The report said all three appeared to be under the influence of alcohol.

The 22-year-old was taken into custody and was released Monday on $7,500 bond, according to jail records. It was unknown whether he has an attorney.

[MSNBC]
This is some straight up bullsh*t … how you gone get mad because the girls got freaky without you??? Shoulda been more on your pimpin, son!
Be the first to receive breaking news alerts and more stories like this by subscribing to our mailing list.