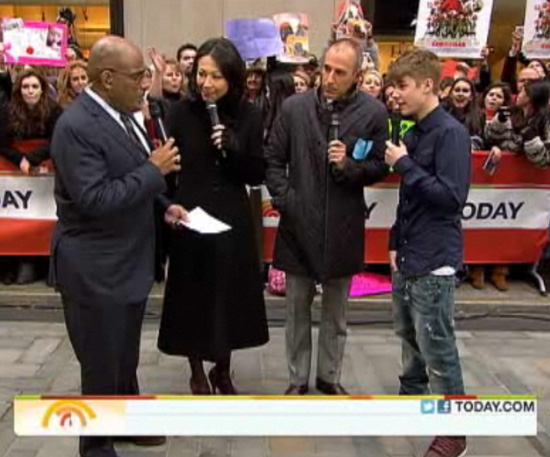 Justin Bieber has finally spoken up about those nasty baby rumors that popped up this week, and says he never even met the 20-year-old "fan" who claims she has a 3-month-old baby by him.
The 17-year-old Pop star appeared on NBC's "Today" show this morning to promote his new Christmas album, and took that time to deny the allegations that he is the father of Mariah Yeater's newborn son.
"I never met the woman," Bieber told the 'Today' show hosts.
"I know I"m going to be a target, but I'll never be a victim," he said. "Every night after the show, I go right from the stage to my car. So it's crazy that people want to make up such false allegations. But to set the record straight: None of it is true."
But Mariah Yeater's lawyers stand behind their client, claiming that they have "credible evidence" to prove that her allegations are true.
They said, "Mariah Yeater is pursuing a modest and rightful claim. There is credible evidence that Justin Bieber is in fact the father of her baby. The evidence will be revealed in court … She is not seeking exorbitant compensation. She merely requests that Justin Bieber provide a DNA sample to verify that he is the father of Mariah Yeater's baby, and, if so, to help provide child support as required by California law."
However, if Mariah's story is "true," she could be facing some statutory rape charges (and jail time), because in it, she claims she was 19 years old and Justin was 16 at the time.
According to the California law, sex between someone over 18 and under 18 constitutes statutory rape.
So for her own sake, Mariah just needs to quietly let this go away.
Be the first to receive breaking news alerts and more stories like this by subscribing to our mailing list.