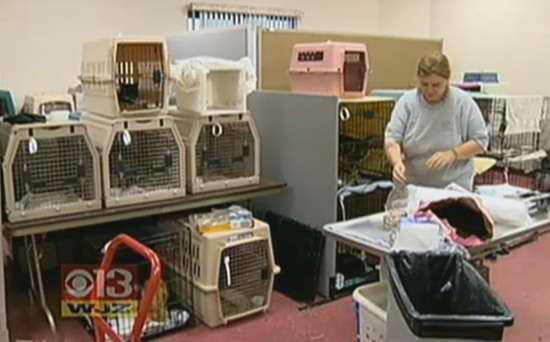 Animal Control officers found more than 150 cats, dead and alive, inside a Maryland home after a raid last week in one of the worst cases of animal abuse in the history of the state of Maryland. (And probably anywhere else for that matter!)
68 of the cats were dead, and their bodies were in plastic bags, coolers and shallow graves at the home. Officers took the 89 living cats they found on the property to a local vet where some had to unfortunately be euthanized due to their poor physical condition.
The cats that were able to survive are being assessed in hopes that they be can be adopted.
Neighbors say they were fully aware of the homeowner's problem with animal hoarding. One neighbor told reporters, "I think everyone knows about the smell. Anytime that we went by, there was a smell."
"When they are in different forms of decomposition, the odor is tremendous," Harold Domer of the Frederick County Animal Control center said. "When we served the warrant on that Tuesday, we had a device that measured the ammonia smell and it was over 300 particles per million. That does require gas masks."
Some neighbors say the owner of the home had been saving the lives of unwanted cats.
"Everybody knows around here, if you've got a cat you don't want, you throw it in her yard, it's going to be alright," Brent Geouge said. "Because if you take it to the animal shelter, they're going to kill it."
The homeowner now faces a number of charges, including animal neglect, which could put her in prison for up to 90 days. She could also receive a $1,000 fine for each count of animal neglect.
[CBS]
Be the first to receive breaking news alerts and more stories like this by subscribing to our mailing list.