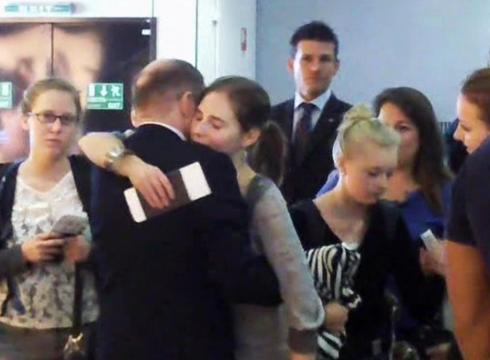 Amanda Knox is making her way back home to America today after being acquitted of serious murder charges yesterday in Italy.
Amanda has spent the past four years of her life behind bars in a foriegn prison but all of that changed Monday (Oct 3) when an Italian appeals court threw out her 2009 murder conviction in the 2007 death of her British roommate Meredith Kercher.
The prosecution insisted that Knox was among the three people who killed Kercher, but doubts over DNA evidence fueled the courts decision to set her free.
According to USA Today, Knox left Perugia's Campanne prison Monday night amid cheers that a companion compared to those at a soccer stadium.
Hundreds of inmates — most of them in the men's wing — shouted "Amanda, ciao!" and "Freedom!" as she walked into the central courtyard, said Corrado Maria Daclon, head of the Italy-US Foundation, which championed Knox's cause.

"They were screaming like crazy," said Daclon, who accompanied Knox in her first hours of freedom. Dalcon said Knox jumped a little for joy and waved to the prisoners.

She was soon on her way home, protected by the darkened windows of a Mercedes that led her out of the Capanne prison in the middle of the night, and then Tuesday morning to Rome's Leonardo da Vinci airport.

"Those who wrote, those who defended me, those who were close, those who prayed for me," Knox wrote in a letter released just hours before leaving the country, "I love you."

Knox thanked those Italians "who shared my suffering and helped me survive with hope," in a letter to the Italy-US Foundation, which seeks to promote ties between the two countries.

"During the trip from Perugia to Rome, Amanda was serene," said Daclon, who was with Knox in the car.

Knox flew from Rome to London, where she took a direct flight to Seattle, flying business class with full-length seat and menu options including champagne, smoked salmon and prawn salad.

At least nine members of media organizations were on board, but a British Airways attendant on the flight blocked them from the plane's secluded upper deck "to preserve the privacy" of passengers. The attendant, quoting a Knox family member, said media were not allowed to contact Knox or her family on the flight but were welcome to attend a press conference later in Seattle.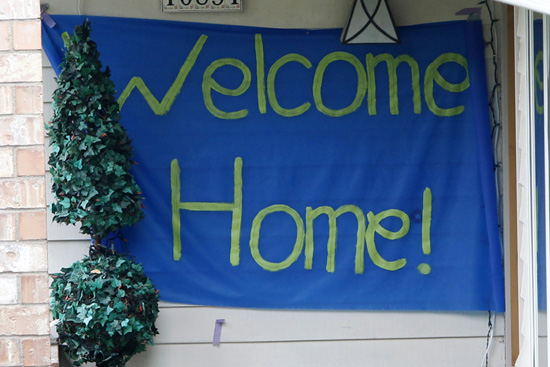 Preparations are currently underway in Seattle for Amanda's return. A "Welcome Home" banner has been hung outside her father's house in Seattle, awaiting her return from Italy.
In related news, Lifetime has updated their movie about the Amanda Knox trial (starring Hayden Panettiere as Knox), and they plan to air the new version tonight.
A spokesperson for Lifetime tells the Los Angeles Times that from now on, whenever the flick is shown, it will also include several sentences updating the case, airing before and after the telepic.
Be the first to receive breaking news alerts and more stories like this by subscribing to our mailing list.