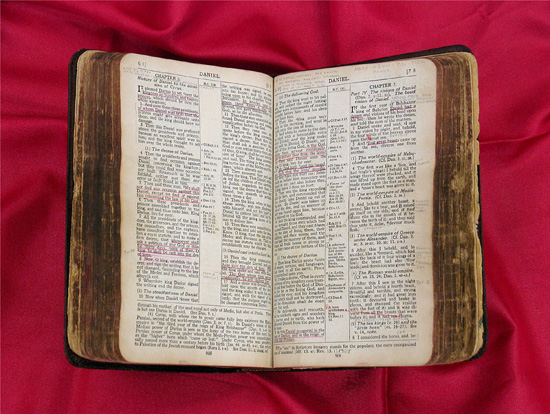 A Florida woman was recently charged with battery causing bodily harm after she allegedly attacked her son's girlfriend with a Bible!
Apparently, some jewelry went missing, and the Bible-toting mother struck up an argument with her son's girlfriend, assuming she did it. So the angry mom, as quoted by the article, "picked up a Bible and threw it at her," striking the girl in her right eye, which caused some swelling and bleeding.
The older woman said the argument was over some of her jewelry that was missing. She told deputies she wanted her son's girlfriend "out of her house becuase she was a thief."

She said she struck the younger woman in the eye "accidentally" when she swung the book behind her, saying, "Get out of my face." The woman said her son's girlfriend was "in her face with a cell phone taking pictures" and recording her, the report said.

The woman's son told deputies that he saw his mother throw a Bible at his girlfriend during the argument from 10 to 15 feet away, striking her in the face. He said that he and his girlfriend and their children have been staying at his mother's house for the past month because they have no where else to go.
Read more: http://www.nwfdailynews.com/articles/girlfriend-43930-woman-holy.html#ixzz1Zk4SH8iq
Be the first to receive breaking news alerts and more stories like this by subscribing to our mailing list.