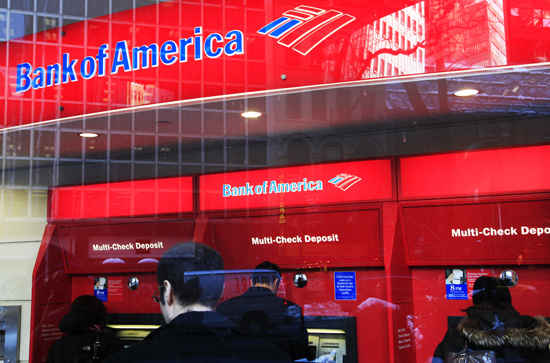 As if we all don't have enough fees to deal with … Bank of America is further proving that the recession is still alive and well by announcing that beginning in 2012, they will be charging customers using their debit cards a monthly $5 fee!
Bank of America struck a nerve this week when it announced it would charge many debit card users a $5 monthly fee when they shop. The company's stock price fell. Customers complained. One cable business anchor sliced up her debit card live on air.

Why such a public backlash over a few extra bucks a month?

Perhaps the bank's decision simply reminded us all over again that we are living increasingly in a fee-littered world, where companies continually seek out new ways to nibble away at our wallets by charging for the smallest of once-free services, leaving many customers feeling nickel-and-dimed.

"The proliferation of a la carte fees has inundated the economy," said Ed Mierzwinski, consumer program director for the U.S. Public Interest Research Group. Companies "are inventing new fees; they are making it harder to avoid fees; they are increasing the fees. .?.?. It's much more complicated to be a consumer."

Bank of America's new debit card fee, which also has been tested or implemented by other banks, joins a long and growing list of similar charges that consumers now encounter in the course of daily life. Among them: airline baggage fees, hotel Internet fees, "convenience charges" for concert and sporting tickets, ATM fees, bank teller fees, paper statement fees, fees hidden in phone and cable bills, taxicab fuel surcharges and exorbitant shipping and handling costs.

As many businesses find themselves squeezed by new regulations, rising fuel prices or the generally sluggish economy, they have sought new ways to extract more money from customers, despite the public relations hit that often results, said John Ulzheimer, president of consumer education at SmartCredit.com.

"If it's a meaningful amount of money, any organization is going to be willing to bite the bullet from a PR perspective," Ulzheimer said. "These fees are not just randomly picked out of thin air."

Rather, he said, companies often try to hit a pricing "sweet spot" in which the majority of customers will swallow their exasperation and pay up rather than enduring the hassle of switching their accounts and taking their business elsewhere. Most times, it works.

"It's absolutely a math equation: How many people am I going to lose," Ulzheimer said. "I don't know that companies care so much about being loved; they care more that people continue to use them. What's important is the bottom line."

That doesn't mean the tactic can't backfire.

In early September, the chief executive of Netflix issued an apology to customers after a substantial price increase that resulted in a a tidal wave of subscription cancellations.

It's little surprise that consumers feel slighted when something that used to be free — be it airline pretzels or hotel gyms — suddenly costs money. But the businesses behind those fees often argue that they simply are covering their costs.

Issuing and managing debit cards costs banks money. Hotels have to pay for the infrastructure for wireless Internet. Airlines constantly battle fuel costs. The New York Times has to pay reporters for the stories that used to be free but now reside behind a Web paywall.

Bank of America's debit card fee marks just one of the ways banks are modifying consumers' accounts in the wake of the financial crisis, which resulted in a regulatory overhaul for the banking system and a fundamental shift in the industry business model. Beginning Saturday, banks, for instance, will now get far less money each time a shopper swipes a debit card.

The need for new revenue sources is especially acute for Bank of America, the country's largest bank by assets. The company's stock price has been battered this year, as Bank of America faces a barrage of mortgage-related lawsuits and lingering doubts about its ability to managed its portfolio of troubled loans. The company has aggressively sought to cut costs and in recent weeks announced its plans to lay off 30,000 employees.

Even so, many customers have shown little sympathy for the bank's woes in the wake of news about the new monthly debit card fee.

"It's not fair," Elizabeth Romero of the District said Friday outside a Bank of America branch in Capitol Heights. "I started looking into changing banks."

Another local customer, Jacob Newman, expressed similar frustration. "Working people aren't getting any bailouts," he said. "It seems like a tough measure to put on working people."
First CitiBank wants to charge people for not having enough money in their bank accounts … and now Bank of America is charging people for using their own money in their bank accounts.
It might be time to just start back using cash.
[WP]
Your thoughts?
Be the first to receive breaking news alerts and more stories like this by subscribing to our mailing list.