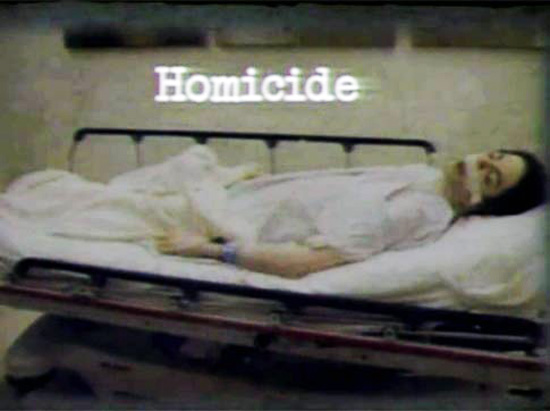 Dr. Conrad Murray's manslaughter case kicked off with a jury hearing yesterday (Sep 27), and the prosecution sent one hell of a message to the jury with the use of this haunting photo of Michael Jackson's lifeless body, with his eyes closed and his mouth open, on a hospital gurney under the words "Homicide."
The prosecution also presented the jury with an eerie recording of the King of Pop's voice slurring through what appeared to be a drugged up haze from the surgery-strength anesthetic propofol.
The almost incoherent recording, with a time stamp of May 10th 2009 (about a month before Jackson died from an overdose of propofol), was retrieved from defendant Dr. Conrad Murray's iPhone, and in it, you can hear Jackson speaking with painfully slow, clearly intoxicated speech.
"When people leave this show, when people leave my show, I want them to say, 'I've never seen nothing like this in my life. Go. Go,'" the clearly weak entertainer is heard saying in the recording. "I'm taking that money, a million children, children's hospital, the biggest in the world, Michael Jackson's Children's Hospital,"
Prosecutor David Walgren hammered the cardiologist for his "extreme deviations" from medical stands.
He also told jurors during his opening statement, "This voice recording documents Michael Jackson highly under the influence of unknown agents. (It documents) Conrad Murray's knowledge of what he is doing to Michael Jackson."
Walgren said Murray pumped Jackson with propofol as part of a lethal cocktail of drugs then abandoned the singer to make calls and return emails the morning of June 25, 2009. He said Murray did not have the proper equipment to administer the dangerous anesthetic, waited 25 minutes to call 911 when he noticed Jackson wasn't breathing and "deceived" paramedics and emergency room doctors by not telling them about the propofol when "specifically asked."

In short, he said Murray failed to act like a doctor, and his negligence caused Jackson's death. "Conrad Murray, with his eyes on an anticipated $150,000 (per month) lucrative contract, instead agreed to provide Michael massive amounts of propofol on a regular basis in complete disregard of all acceptable standards of medical care," Walgren said.

Jackson's famous sister Janet Jackson, his parents and several other siblings filled the downtown courtroom for the first day of the long-awaited trial. The entertainer's three children were not present, but his eldest son and daughter could be called during the trial since they witnessed some of the chaotic resuscitation attempt.

Murray, 58, has been charged with involuntary manslaughter and faces up to four years in prison and a likely loss of his medical license if convicted. His defense lawyer started his opening statement saying Jackson was responsible for his own death.

Ed Chernoff told jurors that the King of Pop woke during Murray's absence and self-administered enough extra propofol to create a "perfect storm" that killed him "so instantly he didn't even have time to close his eyes."

Murray, who dabbed tears during his lawyer's statements, earlier told investigators that Jackson used propofol for his insomnia – calling it his "milk" — and that he was trying to wean the 136-pound performer from his addiction over a two-month period of nightly doses.
Wow … what a way to kick off this case. The L.A. District Attorney is going all the way in with that photo and that audio tape!
Can't say that Dr. Murray dude doesn't deserve it though. He killed Michael Jackson and deserves to be punished.
Your thoughts?
Be the first to receive breaking news alerts and more stories like this by subscribing to our mailing list.