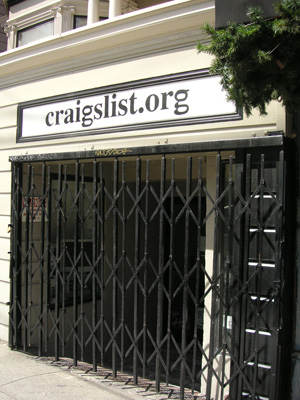 A guy imitating Lifetime's "Craigslist Killer" movie has been charged with assault and robbery (along with other related charges) after he attacked a man trying to sell him a boat through the popular website Craigslist.
The Craigstlist Killer Wannabe also walked away from the incident with a few injuries (The boat seller slashed his throat!)
Ronald Kroll said he's watched "The Craigslist Killer" movie but never thought something like that could happen to him. Last week it almost did.

The 37-year-old New Smyrna Beach man said he found himself fighting for survival moments after he met a man who claimed interest in buying a boat Kroll had advertised on Craigslist, a popular classifieds website.

Kroll thinks the man had other intentions in mind. "I think he would have killed me if he had the chance," Kroll said by phone Thursday.

Kroll met the man, who was later identified by authorities as Merritt Island resident Darin Leutbecker, about noon Wednesday near the Intracoastal Waterway in New Smyrna Beach to test out a 2005 Savage Creek Classic boat. The two ventured south into the channel with Kroll at the controls.

Minutes later, Kroll said he offered the wheel to Leutbecker, who took the boat into shallow water. However, when they were out of sight from other boaters, Kroll said that's when he got suspicious. "I knew something wasn't right," he said.

Kroll said the suspect told him to stand facing away at the front of the boat to see if it would rock. But Kroll knew better and tried taking the boat back to shore. That's when Kroll said he saw the suspect pull a handgun from his backpack. A struggle ensued and the two fell overboard.

"The biggest thing was to get myself as far away from the gun as possible," Kroll said. The two fought in chest-deep water and at one point Kroll said his hand was directly over the barrel of the gun. "That was one of the scariest things I've experienced," Kroll said.

Seconds later, he said he thought he saw the suspect had dropped the gun and Kroll pulled out a pocketknife to defend himself. But the suspect drew the gun out of the water and shot at Kroll as he dove for cover.

Kroll swam to land while the suspect drove away with the boat, which was later found abandoned, Volusia County Sheriff's Office spokesman Brandon Haught said. Kroll told deputies that during the struggle he believed he had cut the suspect across the neck with the pocketknife, Haught said.

Volusia sheriff's investigators then notified the Brevard County Sheriff's Office to be on the lookout for anyone showing up at a hospital there with the suspect's description and injury. About 7:30 p.m. Wednesday a Brevard sergeant notified Volusia investigators that a man matching the description, including a neck injury, was at Canaveral Hospital.

Leutbecker was charged with robbery with a firearm, aggravated assault with a deadly weapon, use of a firearm during the commission of a felony, grand theft and battery. He was taken to the Volusia County Branch Jail and was being held Thursday on $10,000 bail.

Kroll, who has sold several items on Craigslist in the past, said he will be more careful next time. By Thursday, he had taken his phone number off the online listing.

"It's left me scratching my head," he said. "You only hear about these things happening to other people. You never think it's going to be happening to you."
LMAO at this Craigslist Killer Wannabe guy getting his throat slashed. That's what he gets!!! Glad the boat owner made it out okay though.
Be the first to receive breaking news alerts and more stories like this by subscribing to our mailing list.