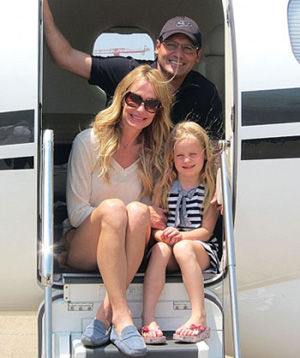 Russell Armstrong — the estranged husband of Taylor Armstrong from "The Real Housewives of Beverly Hills" — was found dead late yesterday at his home following an apparent suicide.
Armstrong, 47, was found hanged in the bedroom of a friend's home in Los Angeles and was pronounced dead at the scene, reports RadarOnline.com.
"He hung himself with no suicide note found," Ed Winter of the L.A Coroner's Office told Radar Online.
Authorities are currently investigating the circumstances surrounding Armstrong's death and are trying to figure out why he committed suicide, though his motivations may never become 100% clear.
A source close to the situation tells Radar that Taylor "has been up all night. She is hysterical, and can barely speak. She has no idea why Russell would do this. She doesn't know how she is going to be able to tell her daughter, Kennedy."
Taylor and Russell's marriage had been in trouble for some time, with Russell moving out of their home several months ago, and Taylor having recently filed for divorce.
The estranged couple had worked with a marriage counselor to save their marriage, and it all was documented for the upcoming season of "The Real Housewives of Beverly Hills." However, there is no word on if Bravo will still air those sessions in light of Russell's suicide.
"I am shocked and deeply saddened to hear about the untimely death of Russell. My condolences go to his family and loved ones. My immediate concern is for Taylor and her daughter to make sure they get the support they need to get through this difficult time," board certified psychiatrist Dr. Charles Sophy, who worked with Taylor and Russell Armstrong as they tried to save their marriage, told RadarOnline.com exclusively.
Russell Armstrong leaves behind he and Taylor's 4-year-old daughter Kennedy, along with two sons (11 and 13 years old) from previous relationships.
While no further details regarding Russell's deatg have been released, the couple made headlines last month when Taylor filed for divorce on claims that Russell had physically abused her.
Be the first to receive breaking news alerts and more stories like this by subscribing to our mailing list.